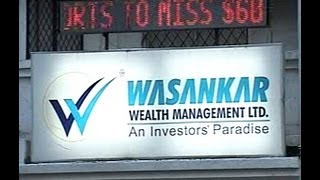 Nagpur News.
The whistleblower, one among those who prominently raised the issue of Wasankar Wealth Management and Shreesurya Group illegally inviting deposits from the gullible investors, is reeling under constant threat to his life and property. Concerned over the threat calls received in the past and also sabotage of his vehicle last year, Sanjay Agrawal, President of People Against Corruption has moved a petition in Nagpur bench of High Court for providing adequate security to him and his organisation's vice-president Sandeep Agrawal who is also his younger brother. The petition will come up for hearing next week.
Talking to Nagpur Today, PAC vice-president Sandeep Agrawal informed, "Though we have filed the petition, it may come up for hearing next week. We had earlier approached police commissioner twice but nothing was done to provide us adequate security. As I have raised many issues and exposed major scams and irregularities in private companies and businesses along with government departments, I can sense the threat ahead. Earlier I was not scared of anything but now I have been experiencing the danger for the last 2-3 months. Since there was no action on this front from police commissioner's office I filed the petition in the court."
In his petition (no. 650/2013) Sanjay, 40, resident of Agrasen road in Dharampeth area on Nagpur, stated that in the wake of his capacity as a whistleblower he had received threat to life on previous occasions too. Even he apprehended the danger looming large this time after the recent expose of Wasankar Wealth Management which came under the clouds for defaulting on payments promised to its investors. Wasankar had promised high returns to the investors and illegally collected money from them despite having no authorization from the Reserve Bank of India (RBI) nor from the Security and Exchange Board of India (SEBI). A local daily also claimed about Wasankar not registered with either of the two financial watchdogs.
On May 7 this year, Agrawal had also written to the Secretary, Ministry of Corporate Affairs in which he complained about such ponzi schemes running unabated in the city without any check.
He also mentioned the recent assurance of the state government over providing protection to the whistleblowers if needed. Stating this assurance, Agrawal made strong ground for adequate security to his life and property and that of his vice-president.
The petition stated that on February 19, 2011 the glass of his four-wheeler was found broken by some unidentified people who committed the act in midnight. Later on November 4, 2012, PAC's vice president Sandeep Agrawal received threat call on his mobile in which he was warned of dire consequences. Agrawal said that police complaint was also lodged in both the cases.
In his petition he said that he had made representations before the Commissioner of Police on February 6 and September 6 this year, in which he had demanded security from the concerned authority. Later, Sitabuldi police station officer also came at his house to seek his statement. However, no security was initiated in place till date.
Agrawal had earlier also blew the lid over the illegal load shedding, gold schemes run by jewelers, issue of Krazy Castle's alleged use of its property for marriage purpose, irregularities in octroi funds by the NMC officials and various other dubious business.