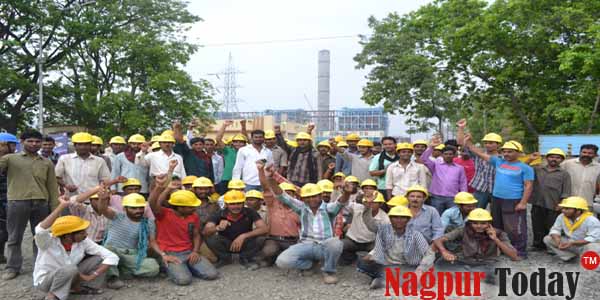 Nagpur News: The work at the new extension power plant of Koradi Thermal Power Station (KTPS) was stalled by the workers over Provident Fund and other important issues.
It may be recalled that the Larsen and Toubro (L&T) had been given the responsibility for construction of the extension power plant. The L&T has given a sub-contract to R B Jha for construction of Boiler No. 8. About 600 workers have deployed by R B Jha contractor. The Provident Fund share of 12 per cent was being deducted from their salaries. However, a serious flaw was noticed by the workers as they were allotted wrong Provind Fund numbers thus putting them in deep trouble. The wrong PF numbers crop up several difficulties for worker as they could not pinpoint how much amount is accumulated in their accounts, and, whether their shares of 12 per cent PF deduction were actually deposited by the company or not.
The 600 workers immediately stalled the work as soon as they noticed the serious flaws in the PF numbers. However, sensing a grave situation of stalling of construction work, the contractor R B Jha's officials pacified the workers by promising corrections in their PF numbers and the would be informed to them accordingly. Some officials and employees have gone to L&T office in this regard and on their return, the workers would be apprised of the ground reality.
The R B Jha officials said, the next salaries would be distributed with the correct information, and, salaries of those workers who have completed their works and are no longer with the company, would also be given immediately. The words of promise, to some extent, pacified the workers. However, the fact that the employees  started the stalled work could not be ascertained immediately.