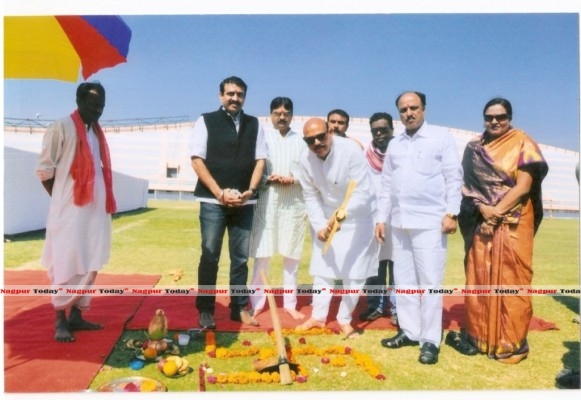 Nagpur News : The NMC on Wednesday performed the 'bhoomipuja' for the 4th Nagpur Mahotsav, beginning from February 24.
Singers Shreya Ghoshal, Shubha Mudgal and other popular artistes will perform at the mahotsav. Mayor Anil Sole performed bhoomipuja and announced the schedule in the presence of MLA Sudhakar Deshmukh. The programmes will be held at Yashwant Stadium between 6 and 10pm.
Addressing a press conference, standing committee chairman Avinash Thakre said the civic body will spend around 1.15 crore on the festival which will also mark the 150th  anniversary of NMC.
He added, "We are also planning to give corporators, NMC staffers and officials a chance to showcase their talents during the fest."
Thakre said daily around 15,000 people are expected to visit the festival. "Special corridors will be set up for VVIPs and VIPs. Free passes will be distributed at zone offices and the head office. People can also come without pass and watch from the gallery. Passes will also be available with tax inspectors, collectors and corporators," he said.
Thakre said several personalities will be felicitated on the last day of Mahotsav. "The NMC started the felicitation programme three years ago and will continue it in a grand manner."
The Mahotsav was launched four years ago by the then standing committee chairman Sandip Joshi. This is the third edition of the event. The civic body skipped it in financial year 2011-12 due to municipal elections.
The schedule
Feb 24: Inaugural programme followed by "Koshish-Live In Fusion" by Shubha Mudgal
Feb 25: "Nazrana Taryancha" – Marathi actors, including Fu Bai Fu fame Bharat Ganeshpure and Sagar Karande, will perform
Feb 26: "Suhana Safar" – 1970-2014 Melodious Journey – 27 singers from city to perform
Feb 27: "Vasantotsav" – Hindi kavi sammelan to be graced by Sunil Joshi, Vinit Chauhan, Poonam Varsha, Govind Rathi
Feb 28: Live in Concert with Shreya Ghoshal and concluding ceremony
(Daily between 6pm and 10pm)