Workshop on Masterclass Infertility gets underway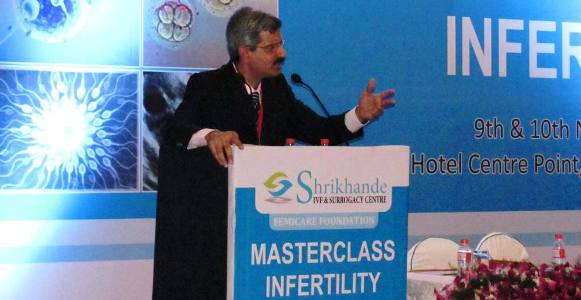 Nagpur Today.
Nearly 5-10 per cent of women from the general population suffer from polycystic ovaries syndrome (PCOS), said Prof. Roy Homburg in an exclusive interview with Nagpur Today. According to him, various factors can cause this syndrome especially if the baby in the uterus to exposed to certain factors.
Earlier, a two-day workshop on Masterclass Infertility, organized jointly by Femicare Foundation which works for the benefit of infertile couples and Shirkhande IVF and Surrogacy Centre for specialists and by specialists, at the Hotel Center Point on November 9, 2013.
The workshop on Intrauterine Insemination (IUI) started from 9am. Experts deliberated on stimulation protocols, techniques and video sessions on preparation of semen sample in the Lab. IUI workshop was conducted by Dr. Jaydeep Tank and Dr. Kersi Awari from Mumbai. The Second workshop was based on the polycystic ovaries (PCOS) from 3 to 6pm. World renowned expert in polycystic ovaries Prof Roy Homburg guided the delegates about the etiology, and recent advances in the management of these PCOS women.
Nagpur Today had an exclusive talk with Prof Roy Homburg. He was born in England in 1943. He then migrated to Tel Aviv in Israel. He also did his MBBS from England. He specialized in Obstetrics and Gynecology. He also did a lot of studies and research in Reproductive medicine and conception. He travels once every month to England to do research in the field of PCOS.
He added that 2 major causes are, one it runs in the family i.e it is Hereditary. The second major cause is Obesity. He said that it all starts from Uterus during pregnancy. He added that there are two more theories in this field of research.
Barker Hypothesis where Barker found that the longer the duration of the pregnancy (past 40 weeks called post-maturity) – the greater the chance that PCOS would later develop. From this the Barker also speculates that the post maturity caused lower estrogen levels at the end of the pregnancy and higher androgen (male hormone) levels. These androgens then imprint the developing hypothalamus to produce too much luteinizing hormone, which is the essence of the disturbance in PCO.
He added that 75 per cent women suffer from the Infertility because of PCOS. The common symptoms are uneven periods or no periods, excessive growth of hair etc. This is because the ovaries are producing too much Testosterones. The PCOS ovaries appear different can easily be differentiated.
Asked if PCOS can be treated, he said that individually, symptomal treatment can be given. One can never get rid of PCOS. The last option is surgery where they burn small portions and ovulation returns.