J D Jambhulkar has descended on political battlefield in North Nagpur constituency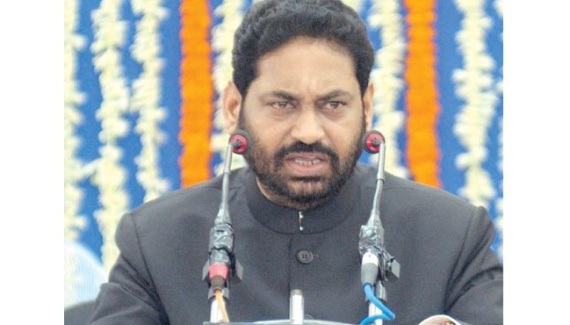 Nagpur News.
The Second Capital City of Nagpur has started feeling political heat as all and sundry political parties have got activated and putting their acts together by every passing minute, hour, day and week. With the Assembly elections also drawing closer and closer, the politicians, as the first potent strategy, have thrown their weights on public relations to garner support and also stay a mile ahead of the rivals. And get together come handy to begin with.
And accordingly, the Mankapur resident and former NMC official, J D Jambhulkar has descended on political battlefield. J D Jambhulkar has a name and also place in the NMC. After retiring from the service, he made his intentions of political career crystal clear and as a first step, put up banners and posters in the North Nagpur. He has, in a well-planned strategy, brought a top BJP Adivasi leader from nearby Makardhokda into his fold and striving hard for a BJP ticket from North Nagpur constituency. Anyway, the BJP ticket seekers for the constituency are very few and the party has doled out an assurance to Jambhulkar in this connection.
The ecstatic and excited Jambhulkar, as a first step towards challenging his heavyweight rival Nitin Raut, will throw a big party to the die-hard opponents of Raut on Sunday night, albeit, in the garb of Diwali Sneh Milan Bhojan. The aim of throwing the party to almost all Raut opponents is double-edged. First, plan a firm strategy to counter Nitin Raut's political might in North Nagpur, and second, show of strength to opponents so that they could see a powerful candidate in Jambhulkar who can challenge Nitin Raut from right, left, and centre. And the ground reality is on the same line as the opponents of Raut see a ray of hope in Jambhulkar to give an equal fight to the heavyweight.
The former NMC official J D Jambhulkar was always in the headlines during his career in the civic body. He fought tooth and nail and sided firmly with the contractor who built NMC's Headquarters building despite facing severe odds from citizens, Corporators, top officials and office-bearers on every stage. And in turn the contractor, too, honoured Jambhulkar in great measure. Now, the possibility is that the contractor might take a big responsibility during Assembly elections.
However, according to political experts, the outcome of the Diwali Milan Bhojan on Sunday to arch rivals of Nitin Raut would emerge a big zero. And they are not wrong in a way. Nitin Raut has built an empire by his works and nursing the constituency in an excellent manner. His works could be compared to a massive "Bargad" tree (Vat vriksha). The legend has that no tree survives under or nearby the "Bargad" tree. The "Bargad" tree swallows every other tree.
Now, only the time will show whether Jambhulkar survives the "Bargad" tree or is sent to oblivion, politically.