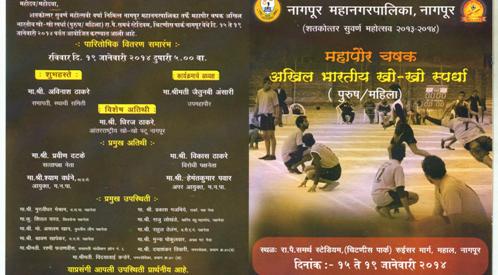 Nagpur News.
The Nagpur Municipal Corporation (NMC), as part of its 150th Year Celebration, is organizing Mahapor Chashak (Mayor's Trophy) All India Kho-Kho Championship (Men/Women) from January 15 to 19. The Championship will be inaugurated at 4 pm on Wednesday by senior BJP leader Nitin Gadkari while Mayor Anil Sole will preside over the inaugural function. The competition is being held at Samarth Stadium (Chitnis Park), Mahal in Nagpur.
The special guests will be the Guardian Minister Shivajirao Moghe, Nagpur MP Vilas Muttemwar and the Arjun Award winner S Prakash (Bengaluru). The chief guests would be the EGS Minister Nitin Raut, Food and Civil Supplies Minister Anil Deshmukh, Minister of State for Finance Rajendra Mulak, Rajya Sabha Member Vijay Darda, Rajya Sabha Member Avinash Pande, Rajya Sabha Member Ajay Sancheti, South Nagpur MLA Dinanath Padole, South West Nagpur MLA Devendra Fadnavis, West Nagpur MLA Sudhakar Deshmukh, East Nagpur MLA Krishna Khopde, Central Nagpur MLA Vikas Kumbhare, MLC Nago Ganar, Deputy Mayor Jaitunnabi Ashfaq Ansari, Standing Committee Chairman Avinash Thakre, Ruling Party Leader in NMC Pravin Datke, Leader of Opposition in NMC Vikas Thakre, NMC Commissioner Shyam Wardhane, and Additional Commissioner Hemant Pawar.
Others who will attend the function include Corporators Murlidhar Meshram, Prakash Gajbhiye, Sheetal Gharat, Raju Lokhande, Mohd Aslam Khan, Rahul Telang, Shravan Khapekar, Munna Pokulwar, Rashmi Fadnavis, and Dayashankar Tiwari.
The Chairman of NMC's Sports and Cultural Committee Harish Dikondwar, Chairperson of Education Committee Chetana Tank, and the Education Officer Dipendra Lokhande have appealed citizens to grace the function in large numbers.
Similarly, several Corporators and other dignitaries would visit the Championship sessions from January 16 to 19 as goodwill visits