SMS sent by abducted youth led to his rescue, arrest of two accused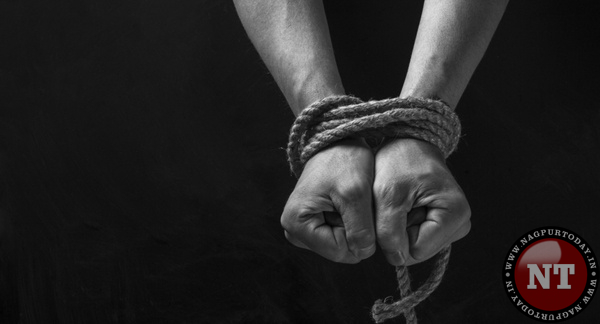 Nagpur: In an audacious act, three young men kidnapped a youth and demanded a ransom of Rs 3 lakh. The abductors threatened to kill the youth if ransom is not paid to them. However, an SMS sent by the kidnapped youth led to his rescue and also arrest of two of the abductors. The incident took place in Pratap Nagar police jurisdiction on Sunday, April 28, 2019.
A resident of Plot No. 102, Rachana Nitya Apartment, Sahakar Nagar, Pradeep Ghanshyam Meshram (53), told Pratap Nagar police that his son Swapnil left home with his Yamaha bike (MH-31/ET 3849) on April 28. But he did not return home. The next day, on April 29, Swapnil phoned his father and told him that some persons have detained him at a place and they will kill him if Rs 3 lakh ransom is not paid to them. At the same time, Swapnil sent an SMS to his father informing him his location near CCD Cafe, Radhe Mangalam. Subsequently, a team of Pratap Nagar police rushed to the spot and rescued Swapnil. Cops also detained two men and a woman present there.
During interrogation, Swapnil told police that he had borrowed Rs 30,000 from accused Shreyas Shekhar Borkar (25), a resident of Kamgar Colony, Subhash Nagar. He had returned Rs 1 lakh including interest. But the accused Shreyas Borkar was demanding Rs 16,000 more. As Swapnil failed to pay the sum, the accused Shreyas Borkar and his two accomplices Rahul Digambar Meshram (24), resident of Gopal Nagar, Third Bus Stop and Dinesh Natthuji Shahane (25), resident of Bhamti, Trimurti Nagar, called him near Sai Lodge, Tukdoji Square and forced him to sit in a car. The accused brought Swapnil near IT Park and thrashed him severely. They demanded Rs 3 lakh ransom and threatened to kill if the demand is not met. Later, the accused trio took Swapnil to a flat at Surya Apartment, Ring Road, and asked him to phone his father for arranging Rs 3 lakh. The accused detained Swapnil the whole night and also bashed him up. Swapnil informed his father about his kidnapping and ransom demand. He also sent a message informing the location where he has been detained. This message ultimately led to his rescue and also arrest of two of the three kidnappers.
Pratap Nagar ASI Raut has booked the accused trio under Sections 364(A), 342, 323, 506(B), 34 of the IPC and arrested Shreyas Borkar and Dinesh Shahane. The third accused Rahul Meshram is being searched.