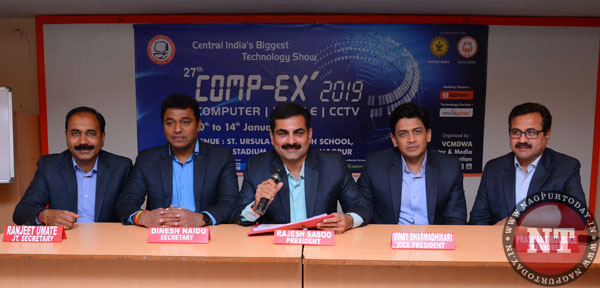 The ever dynamic digital world is ready to update and upgrade itself yet again with a new make-over of the technological advancements for many corporate offices, business firms, household systems, the smart phones in one's pocket and now even to the extent of just one's wrist via the smart watches. While the digital innovations in the world are moving at a jet speed, even passing of time is not behind. It seems it was a just couple of months back the last Compex was organized.
But here it is, orbiting the sun and completing a full circle of 12 months in no time, the much awaited prestigious mega event, Comp-Ex, Central India's largest and the happening IT expo is all set to lift the curtains in its glorious 27th edition from the 10th of January, 2019. The centrally located venue, same as last year, is St. Ursula Girls High School Ground at Civil Lines, Nagpur besides Collector Office. The 5 days event will conclude on the 14th of January. Daily timings for visitors at Comp-Ex would be from 12.00 noon to 9 pm.
This flagship event is being backed in its efforts by Government of Maharashtra and Maharashtra Metro Rail Corporation, more popularly and proudly now known by Nagpurians as MajhiMetro. These two organisations have been an integral part of Comp-Ex and in alignment to take the IT world in its advanced 'avtaar' to the end users.
Comp-Ex is the pioneer event in showcasing the ever dynamic advancements in the field of Information Technology ranging from the latest hardware to the application based software through this extravaganza at a mega-scale. Top companies from the IT field will be participating in this year's Comp-Ex too. Major and well known players like Samsung India, HP, Wardwiz, Lenovo, Dell, Tally, Microsoft Surface, etc. have already confirmed their participation.
This would be a great opportunity for all the tech savvy people for the latest gadgets, applications and the wide ranging services sought by them in their varied areas of interest, business need, safety needs or career. Lakhs of visitors from all over Central India throng to CompEx and quench their thirst for technology year after year.
The much looked forward and gainful highlight in CompEx will be getting a glimpse of the latest in Laptops and PC's. Wide-ranging products at wide ranging price bands suitable for all pockets will be there with Laptops starting from as low as 8000/-. Refurbished PC's and Laptops, as economical options, have flooded the market and one can get high configuration laptops and desktops even the likes of Apple make at a good bargain.
On popular demand of the digi-sportsmen, CompEx will be putting up Gaming Zone again this time, after skipping it last year, for the young and yo crowd. There will be on-the-spot gaming competitions in popular games like PUBG, PUBG CLAN and FIFA 19.
An area of grave concern and fast gaining magnitude, e-Waste is a serious threat in many countries and India is no different. VCMDWA, the pioneer in many techno-social services has decided to take the lead in Central India for the safe disposal and re-cycling of e-Waste. Any visitor to Comp-Ex who brings any e-Waste will be given free entry to the expo and will also be awarded with a certificate stating that the individual is 'e-Positive'.
To take its thought, concern and commitment towards reducing the e-Waste by its safe disposal and re-cycling route, Comp-Ex organizers will buying any and all the e-Waste at Rs. 15/- a Kg at the venue. Anyone having old, useless, dumped E-Waste at his business premises or homes in excess of 50 kgs, Comp-Ex also offers a pick-up facility of any such large quantity E-Waste from the dump location.
Visitors to Comp-Ex will experience and can enjoy the High Speed Internet provided by BSNL at the venue. Likewise, towards a safe social living, Nagpur Police will be making citizens aware about cyber threats, cyber crimes and would also provide tips and solutions to face any such menace, if one is subjected to. Nagpur Traffic Police will demonstrate working and effectiveness of newly installed e-Challan while Govt of Maharashtra pavilion will offer spot registration facility to get Aadhar Card and Voters Id Card.
Nagpur Metro will be yet another attraction for people to get first-hand experience of how the metro will function in near future. Nagpur Metro pavilion will have dedicated staff to share and provide information and answer queries of general public. A wish-wall is also being erected at the Metro Pavilion where visitors can write best wishes for Majhi Metro. Already on a fast track of construction, Nagpur Metro will soon become a running reality and a prestigious addition to Nagpur, a true smart city in the making.
With the latest trend of digital payments and cashback to the customers through We Pay, a latest e-payment set-up extending easy access and immediate cash back benefits to the visitors who seek entry to Comp-Ex through the digital payment option.