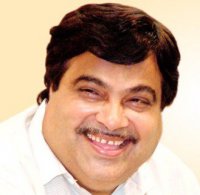 Nagpur News: In a fresh show of solidarity towards tainted BJP (Bharatiya Janata Party) President Nitin Gadkari, BJP workers and farmers across Vidarbha are expected to conduct a protest march in East Nagpur tomorrow.
Around 1lakh farmers are expected to participate in the march that already has the city police on its toes. Heavy security arrangements are being made for the rally, to prevent any untoward or violent incident. Farmers are coming in from different parts of Vidarbha, though most of them will be from Nagpur district. The march had been planned not only to display support for Gadkari, but also to protest against an English news channel and a daily newspaper for criticising the Nagpur-based BJP President.
The farmers are expected to hold demonstrations in front of the Nagpur office the English daily, for alleged maligning of the popular leader. Though local and senior BJP leaders are expected to attend the rally, the highlight of the rally will remain the farmers, who are being said to be the main organisers. Media persons from across the country are expected to arrive in the city to cover the rally.
There is reported outrage among farmers in the region regarding media reports accusing Gadkari of corruption through his Purti Sugar and Power Private Limited. Ironically, the media reports that will be receiving the flak of farmers tomorrow, have been accusing Gadkari of having exploiting farmers of the same region.
BJP leaders Chandrashekhar Bawankule, Ghodmare, Parwe and others are expected to attend the rally.