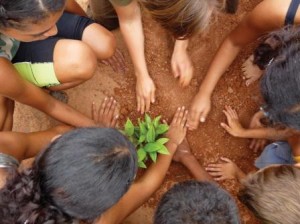 Nagpur News: Little Jewels Kindergarten school implemented the theme "Go Green, Be Eco Friendly" throughout the month of October, wherein the children participated in activities that stressed the importance of environmental responsibility, thus making them conscious and concerned even before they begin their formal education.
A tree plantation drive was undertaken as part of the programme, and children planted trees themselves. The little students had also been taken to Futala Lake as part of the Theme activity, where they spent the day convincing surprised and charmed grown- ups not to litter the lake with flowers during Ganpati celebrations.
The activities were part of the theme based education system implemented by Little Jewels Kindergarten and many other preschools in the country. The idea is make the children aware of the world around them and stimulate their imagination and thinking, without restricting them to time- tables and curricula at this early stage of life.