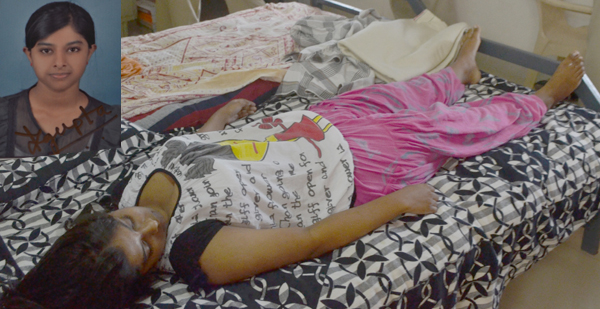 Nagpur News.
In an emotional yet shocking incident, a 19 year old girl from Bilaspur committed suicide in her hostel room at Shivaji Science College in Congress Nagar on the first day of her college in Nagpur. Devashree Dasgupta who took admission in BCA 1st year spent her first night at the hostel on Wednesday. Devashree's body was found hanging from a ceiling fan with her pink dupatta. Dhantoli police informed that no suicide note was found on the spot and the actual reason behind her taking the drastic step was yet to be ascertained. Devashree was the native of Hemu Nagar in Bilaspur.
Devashree was taken to hostel by her mother yesterday only. Her mother stayed at the house of local guardian Roy on Wednesday while her father who works as Engineer in Railways at Bilaspur in Chhattisgarh was in his home town.
"She appeared happy and smiling when we left her at the hostel and there was no sign of depression over her face", counters Devashree's mother as she broke down into tears on hearing the tragic news about her daughter's death.
Devashree was reportedly depressed over what she went through about two years back in Vishakhapatnam where she took admission in class 11th but returned in two months owing to often bullying by her hostel mates.
In Nagpur, she was allotted twin sharing room (no. 303) along with another girl Haripriya Badhai who hails from a village Dongri near Tumsar in Bhandara district. Haripriya told Nagpur Today that last night she was with Devashree and another girl Niyati Nimaje in some other room where they had discussion at stretch till 3 am.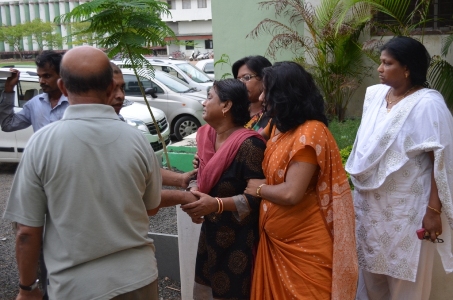 "It was in the night that Devashree shared about her harsh days in Vishakhapatnam where she went to study in class 11th. She told us that she was often teased by other students at the hostel. They used to taunt her, ragged and locked her up in the bathroom. Due to the non-bearable horrifying experience there, she returned within two months and continued her studies in Bilaspur. She broke down while narrating this experience to us. Then another moment she was smiling. Her mood appeared to be swinging. Then she left for her room for sleeping."
Haripriya said, "Next morning also she was with me. As she was not having any class, she came to see me at the class. She even did not eat properly and went to her room and locked it from inside. It appeared that she was too petrified with her Vishakhapatnam's experience."
Later in the afternoon Haripriya returned to room and knocked. But Devashree did not respond. Haripriya along with other girls kept knocking for about half an hour but to no avail. As they peeped inside, they found Devashree's body hanging from ceiling fan. She had used her pink dupatta for committing suicide.
As the news spread the hostel warden immediately informed about the incident to Devashree's local guardian Roy.
Hostel Supervisor Kalpana Supare and hostel incharge Punita Tiwari too were taken aback at the peculiarity of the incident in which the girl ended her life on the first day itself. Supare said, "We did not have a slight hint of what this girl was upto as she appeared quite happy when her mother came to drop her at the hostel."
Devashree's parents too were shocked and clueless about the incident. Her mother told that she had talked to Devashree in the morning itself and everything sounded fine even then. Even she was not under pressure regarding studies as she scored 76% in class 12th and scored good 9.2 points in 10th, she sobbed.
PoIice inspector Shende and PSI Chavan are investigating the case. Devashree's body has been sent for postmortem. Dhantoli police was looking towards some other dimensions in the case.