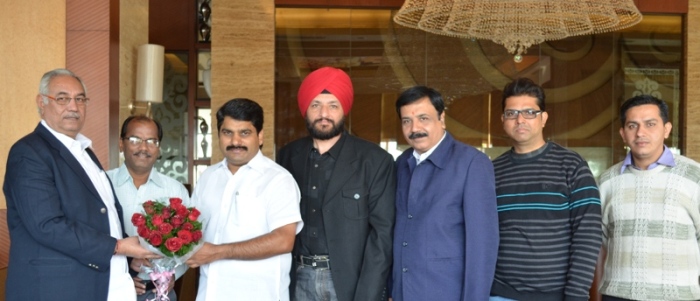 Nagpur News:
A delegation of Vidarbha Taxpayers Association (VTA) and Nagpur Residential Hotels Association (NRHA) led by their respective President J. P. Sharma and Prakash Trivedi met Home Minister R. R. Patil and Minister of State (MoS) for Home Satej Patil and submitted memorandum on the issue.
J. P. Sharma submitted that in October 2011 the then Police Commissioner Dr. Ankush Dhanvijay had directed all establishments to close down completely at 11:30 pm to curb crime and accordingly since then police is following such order & from 11 pm onwards start demanding traders to down their shutters, this is causing loss of business to traders especially those engaged in eatery & restaurant business.
Prakash Trivedi said that Mumbai & Pune too have high crime rate, however eating house license there grants permission to remain open till 1:30 am. Why is Nagpur Police making Second Capital a village by imposing such curb that too just to slow down crime rate, which ironically has not dropped as compared to year before? Moreover police only target main roads of the city and those in bylanes or in fact area of sensitivity like Mohminpura, Mahal, Bhaldarpura, Railway Station, etc are remained untouched, why this step motherly treatment to business houses on main roads.
Tejinder Singh Renu Secretary of VTA said Cinema houses are permitted to remain open till 1 am or even more, marriage functions & receptions, etc normally ends almost by 1-2 am. New York, is a city that never sleeps, so are many bustling metropolises in the world. In fact closing down shutters at 11:30 pm makes 2nd Capital of Maharashtra, more like a rural rather than urban.
VTA memorandum also submitted that Nagpur is a trading centre and Shop & Establishment Department permits shop keepers to keep their shops open till 10 pm, so if such trader wishes to enjoy dinner at restaurant reaches around 11 pm, and by then the police start directing restaurants to close down, which is drastically harming business of eating houses.
VTA appealed Home Ministry to direct to increase eating house timings in Nagpur similar to that of State Capital Mumbai up to 1:30 am and also increase strength of police staff in second Capital Nagpur, which most likely is the main cause of crime rise.
MoS Satej Patil informed that already a meeting was held in September 19 to take stock of the changes required in old laws, including the Criminal Procedure Code and Bombay Police Act. He said in cities like Nagpur & Mumbai many people come for medical treatment from other cities and states, where hospitals and emergency rooms are open round the clock, it is essential that small vendors, small hotels, even tea stalls and the like, are allowed to remain open beyond midnight. He assured that he'll speak Police Commissioner K. K. Pathak on this.
Others present in the delegation were VTA Joint Secretary Hemant Trivedi, NRHA Joint Secretaries Deepak Pandey and Vinod Joshi.