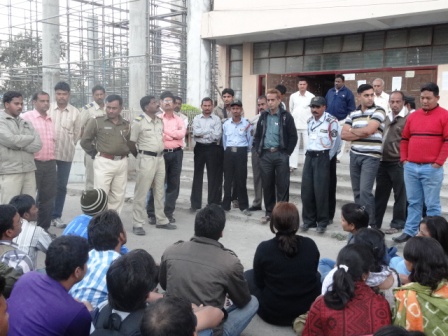 Nagpur News: Bolstered by the High Court judgement ordering revaluation of 106 incorrectly revaluated Engineering papers, more students are now coming up and demanding their due. While more than 150 students have filed fresh PILs in court against the University, Saturday evening saw students in a sit- in protest outside Pariksha Bhavan, demanding an explanation for the crass wrong University evaluation proven by an independent committee in court.
Rashtrasant Tukadoji Maharaj (RTM) Nagpur University Pro- Vice Chancellor Mahesh Kumar Yenkie explained the difference in marks given by University checkers and the independent panel as a legitimate difference in the discretion of the evaluator. "Despite it being a technical stream and technical subjects, the judgement of the experienced person checking the paper has to be taken into account", the Pro- VC told Nagpur Today, "If the said evaluator is asked for an explanation, they would say that the student deserved the marks they had given, in their opinion. It would be completely justified and we cannot challenge that."
Some of the protesting students on Saturday were given an interview with the Pro- VC, but he refused to entertain their demands of being allowed to sit for the upcoming exams, saying that he does not have the power to do so. "The 106 students are being allowed to sit because the honourable court has ordered us to do so. Without such orders for remaining students as well, I cannot exceed my authority and allow them to give their paper. Let the students go to court", he said.
Two fresh PILs were filed by groups of students this week in the court, but University representatives allegedly said that it was impossible for them to allot hall tickets to such students in such a short time, with exams commencing from December 27. The students will be heard in court on 2nd January.
"It seems that Nagpur University students have no choice but to stage protests and fight in Court to pass exams that they have studied for and given honestly", said students at Pariksha Bhavan on Saturday, further adding, "