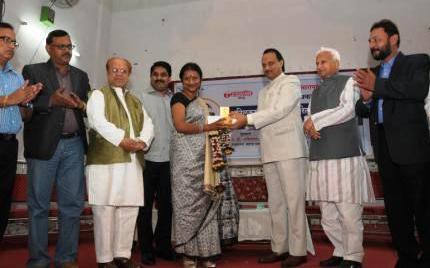 Nagpur News: "It is through Journalism that the issues of the common man are brought to the notice of the government and those in power. This medium helps the government function progressively, keeping the serious problems of the common man in mind. Journalists should work in a way that stresses on progress and facilitates justice to the common man", such were the words of Deputy Chief Minister of Maharashtra Ajit Pawar at Tilak Patrakar Bhavan in the city on Saturday.
Pawar was addressing a gathering at Tilak Patrakar Bahvan, at a ceremony jointly organised by Manav Mandir and the Nagpur Union of Working Journalists to award Sarita Kaushik, a journalist with the ABP Maza news channel, with the Anil Kumar Memorial Journalism Award.
State Home Minister Satej Patil presided over the event. Manv Mandir President and former MLA Girish Gandjhi, former MLA Ullas Pawar, President of the Nagpur Union of Working Journalists Sirish Borkar, President of the Tilak Patrakar Bhavan Trust Pradip Maitra, Hemant Gandhi and Nishant Gandhi were prominently present on the occasion.
Home Minister Patil said, "Journalism is the fourth pillar of democracy. There are many journalists who use their work to provide justice to average citizens. "Prominent journalists f the city were present in large numbers to mark the occasion and show awardee Sarita Kaushik their support.