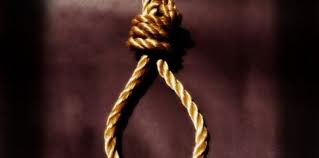 Nagpur: A Suicide step by a 13-year-old girl for the reason probably known only to her has left a question mark for her family, friends and her well wishers.
Abhilasha Patil, a resident of Bezonbagh was found hanged to the shower with her dupatta on Monday morning. A ninth standard student Abhilasha was having her unit test at her school on Monday. Her relatives informed that due to ill health, she had not attended the school for last three days.
She took the drastic step before going to the school. "Around 9 am, she went to take bath but didn't come back till long. Her silence to her mother and sisters call panicked everyone. Her father peeped through the window to check but found Abhilasha hanging," said Shardha Khapade, a relative.
The door was broken open and she was rushed to nearby private hospital but was declared brought dead. The body was shifted to Mayo hospital for post mortem.
Youngest of three sisters, Abhilasha was most lovable for her father Viren, a civil engineer at a private firm and mother Meena, a homemaker.
For her parents, Viren, a contractor in a private firm and homemaker Meena, Abhilasha was the youngest of three daughters. "Being the youngest and notorious in the house, she was most lovable and an apple's eye of everyone in the house," added Khapade. Despite having a joint family, the teenager couldn't find anyone suitable to share her problems.
As told by her parents, they never had to force Abhilasha for studies. "She was a bright student. Besides her regular studies, she was an active NCC cadet and a sports lover," said her elder sister. Both the sisters are polytechnic students.
Her school teachers who rushed her home on learning the shocking news told that she was always appreciated for her regular homework and disciplined behaviour in the class.
No suicide note was even left by Abhilasha leaving her parents clueless about the reason that forced her to end her life.
From school to tuitions, Viren and relatives had questioned everyone including teachers, friends and close ones to know at least the problem but got nothing. "Neither she was scolded, nor teased by anyone. She didn't have a fight with any of the family members," said a relative. Her close friends also informed that she was not involved in any kind of relationship.
Jaripatka police are investigating the case under accidental death.