Nagpur Sports News:-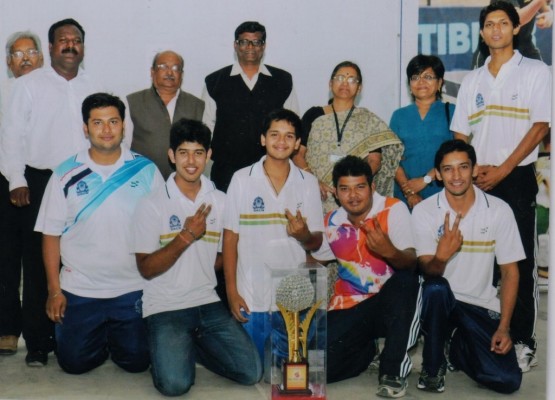 Loaded with Ace Paddlers of the Nagpur city, Dr. Ambedkar College bags University Table Tennis Inter-Collegiate Title in the first time in the history of DACN. Last Year, DACN missed the title by a whisker, by a very narrow margin of 3-2 to RKNEC. Earlier in the quarter final Dr. Ambedkar College beat KDK Engineering 3-0 while in semis DACN beat G. S. Raisoni Enginnering 3-0. The title clash was played between RKNEC and Ambedkar College, but this time, DACN paddlers settled the score by beating RKNEC in a straight 3-0 lead.
1)    Devdatta Fadnavis beat Viresh Rana: 11-9; 11-8; 10-12; 9-11; 11-8
2)    Alhad Gunjal beat Saivikas Verma: 11-4; 11-6; 7-11; 11-9
3)    Rohit Borwankar beat Sachit Chaudhary: 11-3; 11-6; 11-3
Other team members are Soham Nandedkar, Omkar Mhaskar and Sudipto Mitra. The Tournament was organized by Dr. Ambedkar College, Deekshabhoomi. Shri Deepak Kanetkar was the Chief Refree and Dr. A. P. Joshi was teacher incharge of the tournament. The team was congratulated by Shri R. S. Gavai, Fromer Governer & MP; Shri S. J. Fulzele, Secretary, Smarak Samiti; Dr. R. Krishnakumar, VC, YCMOU & Director of College; Principal Dr. Mrs. K. M. Reddy; Vice-Principal Dr. A. P. Joshi; Dr. Smt. Pradnya Bhelwa; Prof. Deepak Borkar; Sunil Panbude; Shailesh Raulkar; Paresh Sutane.