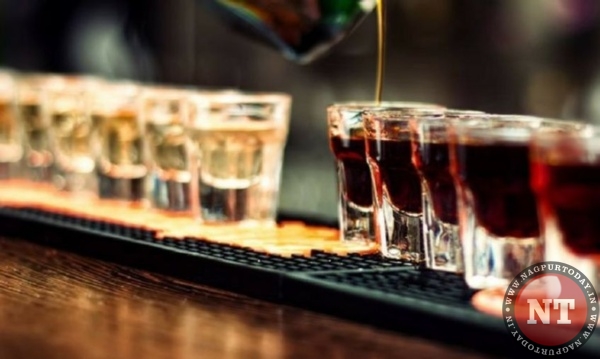 Going to a bar to soothe yourself from the work pressure once, makes you broke for the rest of the month. But, sometimes to overcome tiredness and busy life, we need to get out and get a drink, shake a leg and uplift your mood. To not to cost a hole in your pocket, we got a list of ultimate bars in CP that are cheap and have a lively ambiance.
Here is a list of amazing cheap bars in CP:
Pebble Street
The construction of Pebble Street, laid in brick and mortar, is designed in a way to give the seeming countenance of an English street. The restaurant's food menu is spread across a wide range of European dishes. It has the most rigid timeline of happy hours starting from 12:30 pm to 8:30 pm every day- which is suitable for a long drinking extravaganza with your friends. The place has an exquisite ambiance with energetic music and matches screenings on game days.
HEAD TO: 61-62, N BLOCK, OUTER CIRCLE, CONNAUGHT PLACE, NEW DELHI
My Bar Headquarters
You've probably hung out here with your college group once, or you may have just ventured in after you learned about their cheap happy hour menu. Well, My Bar is the locus of reasonably priced pubs in Delhi. A pint of beer at My Bar starts at Rs 49 and the bar has a collection of all kinds of malts, wines, and other liquors. The food menu is extensive enough to satisfy your appetite with multi-cuisine and finger licking good food. Use your Zomato Coupons to avail discounts.My Bar has a full of joie de vivre ambiance, and you'll often eavesdrop on the laughter and cries of college students and post-work discussions of office-goers.
HEAD TO: N-49, 2ND FLOOR, CONNAUGHT PLACE, NEW DELHI
My Bar Square
My Bar Square is a little different from My Bar Headquarters, but it is still amusing enough to make it to our bucket list of the best bars in CP. Though the food and drinks menu has the same entrees, marked against the same price tags but only, My Bar Square has a dinkier and faintly lit ambiance when compared to My Bar Headquarters. The place has a more humble setting, there other privileges like personalized attention from the in-house staff and uninterrupted conversations.
HEAD TO: E-34 & 35, 1st FLOOR, INNER CIRCLE, CONNAUGHT PLACE, NEW DELHI
Blues
The café's rusty décor and bleak lighting give it a mystical appearance. It resembles the 20th Century American Jazz bars and also the blues and jazz genre before it transcended into the global genre. It is all decked up with the posters of rock and roll artists and blues artists. The music around is the compositions of the 1960s and even the menu is designed in such a manner that looks like a vinyl record. The cuisines are available at reasonable prices and you can taste Mexican and American at the same place.
HEAD TO: N-18, OUTER CIRCLE, OPPOSITE KASTURBA GANDHI MARG, CONNAUGHT PLACE, NEW DELHI.
Lady Baga
Lady Baga is a tribute to the 1970's Goan Hippy hovels: large dream catchers, floral prints, enchanting wave projections painted from floor to ceiling, psychedelic paintings, and handcrafted lamps with glossy shades that bear a resemblance to a vivid dream. Lady Baga is not just all give you an idea about its authenticity; its food menu is equally authentic and diverse. Since it is set in the backdrop of Goan sea shacks, the menu features seafood delights from the Goan and Malvani cuisine, along with other an assortment of finger foods. Money spent here is earned back through the delightful experience it offers. Use your Zomato Coupons to avail discounts.
HEAD TO: P-3/90, CONNAUGHT CIRCUS, CONNAUGHT PLACE, NEW DELHI
Bombay Bar
A retro bar designed in Bollywood colours is a great inspiration for many. The interior is well-designed with glossy chandeliers, large mirrors, cushioned sofas and light bulbs to originate a look-a-like film studio. If you are not known to vanity vans and film sets, then its terrace seating is designed in such a manner that you'll be impressed by it. Also, the stairs have the portraits of Hindi cine stars and even posters of vintage movies are hung on the walls proudly. With the amazing ambiance and crowd, the bar is well complimented with the Bombay food culture. You must try Khao Galli Platter, Parsi Dal, and Mexican gol gappas.
HEAD TO: P-21/90, 1st & 2nd FLOOR, OUTER CIRCLE, CONNAUGHT PLACE, NEW DELHI
Route 4
4 designed as our daily transit routine of the busy traffic on Delhi roads with honking and car radios. The theme is eye-catching because of the props as the giant traffic signal or the "On Air" radio, car posters and studio indicators. The atmosphere on match days is quite wild and it is a place popular among sports lovers and the ones with mad energy and passionate about sports. So, if you are the sports lovers, then head to Route 4 and enjoy with your group.
HEAD TO: K-2, MIDDLE CIRCLE, CONNAUGHT PLACE, NEW DELHI
Odeon Social
With their back to school theme, Odeon Social is different from all other bars. The interiors of the place attract the customers most and it revives all the school memories. The café features stoned floors with chairs and desks around and a blackboard at one end and on the other end is the live stage for band performances. The shelves are filled with books and trophies bearing actual schools and students who got it. Designed as a co-working space, you can spend time working and you can go there for a quick break to have refreshing drinks and mouth-watering food. Use your Zomato Coupons to avail discounts.
HEAD TO: 23, 1st FLOOR, ODEON BUILDING, RADIAL 5, D BLOCK, CONNAUGHT PLACE, NEW DELHI
Local
The blue gleaming signboard done in an eccentric combination of Devanagari and English Script is amazing and you cannot miss visiting this place. The café is divided into two floors and seating is available on both the floors. The lower floor looks more like a warehouse as spread across a large hall. Sip on your drinks, smoke hookahs and enjoy the street food. The place is mostly dominated by Delhi street style food and locals. You got a variety of pizzas and finger food options. The drinks menu is also exquisite and makes it a cheap and good bar to keep up with. The café boasts to be a "wholesale bar" but post 7 pm.
HEAD TO: 11, KG MARG, SCINDIA HOUSE, CONNAUGHT PLACE, NEW DELHI
Café MRP
Where in any Bar or Café would you get drinks at theka prices? But, here is your escape as Café MRP offers you drinks at theka prices with some delicious food that doesn't make a dent on your pocket. While you have your shots and beers, you must have their most recommended Chicken and Cheese Pizzas. The food served is in sizeable portions and the vibes at the café do not disappoint you. The DJ knows how to woo crowd and get them moving with the flow and the crowd is even responsive and is comfortable with the surroundings. The best part of the café is there terrace seating. It is a perfect go-to place for night outs.
HEAD TO: 1st Floor, C-39, Opposite Odeon Cinema, Connaught Place, New Delhi
So, where are you heading to this weekend? Drink without burning your pockets at these amazing cafes with great décor, good music and food, and lively crowd.