Zanjeer: A decent attempt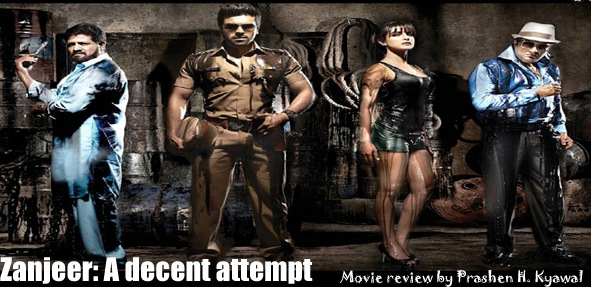 Star cast: Ram Charan Teja, Priyanka Chopra, Sanjay Dutt, Mahie Gill, Prakash Raj,  Atul Kulkarni.
Director: Apoorva Lakhia
Prakash Mehra's Zanjeer is a film which changed film industry forever. It gave Amitabh Bachchan his title of "Angry Young Man" and ability to rule the film industry for 2 decades. The film is a revenge drama with social connect and emotional content. Come 2013, Mehra's two sons, Puneet and Summet, try to remake this film by setting it in today's times. Are they successful at their attempt? The title of this review gives out the suspense at start itself hence let's now try to look at it in detail.
I must say this film is cleverly made without trying to better the original film or by copying it frame by frame. The makers have set realistic goals and it shows in the production value of the film. The same approach has gone into making of the film and hence it works. They used basic skeleton of original screenplay with few main characters, few original dialogs and then created a new screen play which does not overstretch the idea of "suspension of disbelief" and aids in it. This is why the film become bearable and eventually we start enjoying it.
The credit must be given to the screenplay writer Suresh Nair who kept is head on his shoulder and his feet on ground while writing the film. He did not get burdened by the legacy nor he tried to play over-smart with false belief that he can write better one. This approach worked and screenplay is fairly good. He is ably supported by dialogue writer Chintan Gandhi.
With a good screenplay/dialogues at hand, Director Apoorva Lakhia's half job is done. Apoorva does a good job and shows maturity in handling the subject and the remake. He has good at screen improvisations which helped the film at many places. However at few places, things have gone wrong too. Few improvisations like putting "raghupati raghav rajaram" bhajan mukhada in background score or use of Muharram procession in climax does not gel well. These may have been good ideas at decision level but failed in execution level.
Apoorva has kept the things simpler which helps this film. He did not use stylized method of filming and editing (being an action thriller, there is scope for it) and stuck with basics film making which works here. The only part he fails in establishing is the emotional connect regarding the revenge drama. Otherwise, he has done a good enough job.
On the performance side, everyone has done a decent job but no one stands out particularly. Ram Charan had big shoes to fill in and if we compare him to that level, he can not match. It is only because no one can match the phenomenon called Amitabh Bachchan. Amitjee acts through his eyes. When he is angry, one feels the anger by the look from his eyes. On one else has that ability except Ajay Devgan who strangely has not been considered for any remake of Amitjee's film. Coming back to Ram Charan, his eyes look as if he is stoned. They do not emote differently in different scenes. However barring that and treating his role individually without comparing with original, he does a decent job. He showed the stressed side of the character while in job and stress-free, playful side when he is suspended and is doing his own thing. Priyanka Chopra is apt in her role. Nothing special but she delivers what is asked for.
Sanjay Dutt also had a legacy character of Sher Khan (immortalized by Late Pran) to give justice to. But as the brief was "forget about the original", he does a good job too. He is not lethargic and does not sleepwalk through the role as he does in many of his movies. He played the character sincerely and it shows. The character is not as superbly written as original was hence does not reach to those levels.
Prakash Raj gets to play the baddie who is shown as a horny man who always plays with his glam doll Mona (played by Mahie Gill). Both of these character has under the belt dialogues and are instructed to overact which sometimes work, sometimes does not work. Single screen audience may whistle and clap on their scenes. Prakash Raj is good as usual and gets to wear flamboyant suits like in 1970s for no reason. Mahie Gill goes a overbid and disappoints a little. Atul Kulkarni who plays a role of journalist does a good job. Daya Shankar Pandey and Apoorva Lakhiya tries to bring in the side kick comic characters as in yesteryears and are good at many places. All others deliver what they are asked for. So casting by Gautam Singh can be said apt.
Editor Chintu Singh keeps the ongoings tight and barring few parts before and after interval, keep the audience interested in the happenings on screen. There are many songs in the film which hinder the flow. Except 1-2 foot tapping item songs which can be hit on dance floors, all other songs are boring and act as a deterrent. 3 music directors Anand Raj Anand, Chirantan Bhatt, Anjjan Meet could not lift up the music side of this film.
Cinematography by R. J. Gururaj is nothing to write about. The films seems to be made at a budget and it shows in the production values. Looks like any other average budget movies. This is evident from the title song itself where they try to mimic James Bond Movies. Even though the song is decent, the budget in making shows and renders it ineffective. Producers Puneet Prakash Mehra and Summet Prakash Mehra must have decided to keep the film cost low to reap good benefits even if the film makes average business.
Overall, if you forget the original movie and go for this one as a new movie, it does not disappoint. If you are lover of bollywood action potboilers and enjoy movies like Garv, Aan Men at Work or for that matter Krantiveer or Yashwant, there are chances that you will actually like this movie. The buzz of the movies seems low and only 2-3 rows where filled in the auditorium for the morning show (whereas "Shudhha Desi Romance" has almost sold out morning show). But with good mouth publicity and support from single screen audience, the movie can recover costs and may earn money due to controlled budget of the movie.
Rating:

Recommendation: If you like revenge movies, if you love average bollywood action potboilers, if you can watch this without comparing with original, I recommend you will enjoy the movie. If you fit the bill, go enjoy it.