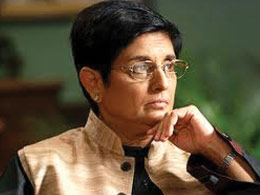 Kiran Bedi, the first women IPS and now, a well known social activist and campaigner of Jan Lokpal Bill, was in the city on Wednesday. Ritesh Kumar from Ranchi Today talked to her on role of youths in changing society and her future plans. She shared her experience as the founder member of her two NGOs.
Q:  So, the Iron Lady is now in Education.
A: You have heard several things about me, this time it is about education. There are many students who have dropped out and lost all their hope to have higher studies because of financial reasons. Our plan is to help them, like we did with the prisoners through Navjyoti India Foundation. We are here to hunt 50 meritorious students to help them pursue higher education at affordable cost.
Q: Lokpal Bill Movement is losing its grip. What is your opinion?
The only reason which is responsible for it is people are not taking interest in the movement.
Q: What is your message for the youths?
A. They should never forget that law is above all, and it is their duty and responsibility to follow it. A mass effort by teachers, NGOs and professionals can be taken to make them a good citizen.
Q. What approach you are applying you reach the rural areas?
A. For this purpose the media persons, NGO's should come up with the helping hands.
Q. When you are planning to step into politics?
A. I am here as a public representative. I never had interest in politics.