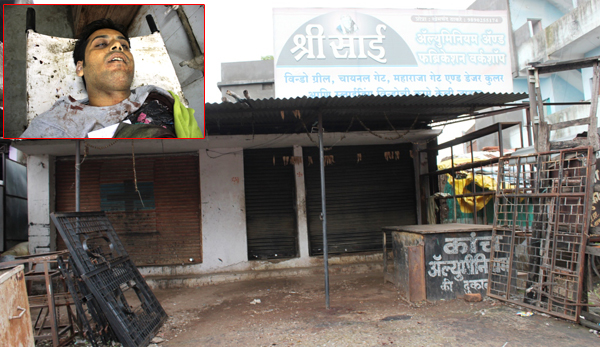 Nagpur News: A youth, blinded by suspicion of wife's affairs with his own friend, lost sanity, and temper, too, and murdered the so-called his friend.
According to police, Sachin Tule and Amit Vijayrao Chavan were close friends. Amit (28), a resident of Manewada Besa Road near Manewada  Ghat, used to visit Sachin's house in Durga Nagar, Manewada. frequently. However, the devil of doubt gripped Sachin's mind and he started suspecting wife for having illicit relations with Amit. And the rude behaviour of Sachin's wife towards him in the recent days worked as fierced fuel to already hot temper of Sachin. Moreover, either Sachin witnessed with his own eyes the illicit affairs between his wife and Amit or somebody poured the bitter words or the truth on his red-hot ears thus confirming the truth. Now, the only crucial factor was the time to explode the killing anger of Sachin.
And, the unfortunate time came when Sachin, boiling with anger, saw Amit standing near Shri Sai Aluminium and Furniture Workshop as he had come the Workshop for selling some metallic goods. Sachin menacingly straighway rushed towards Amit and stabbed him 5-6 times in the stomach with a sharp-edged knife in the heat of the moments although Sachin had pre-planned elimination of Amit long before. He just got the opportunity and succeeded in carrying out the cold-blooded murder of Amit in the daylight and in front full public view.
The deep knife injuries on the stomach of Amit presented a gory picture with intestines out  of Amit's stomach and Amit himself lying in a pool of blood dead. Amit died on the spot bleeding profusely. Somebody among the onlookers informed the Hudkeshwar Police Station about the ghastly incident.
The Hudkeshwar police team led by API Vinod Dighore reached the spot and after preliminary paper works sent body of Amit for post-mortem. And, most significantly, succeeded in arresting Sachin within an hour. Sachin, without any remorse, confessed the murder within moments after getting arrested. The way Sachin killed Amit suggests a volcano of anger had gripped his mind against Amit.
Hudkeshwar police filed an offence against Sachin under Section 302 of IPC and the API Vinod Dighore is probing the matter further.