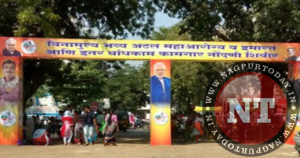 Nagpur: In a tragic turn of event a man lost life due to ambulance failure in BJP organized 'atal arogya shibir ' here in Nagpur on Sunday.
The deceased was identified as Vijay Kamble.
The incident was followed by the inauguration ceremony of health camp at Punjabrao Deshmukh Krushi Vidhyapith.
Vijay resident of south Nagpur approached the venue around 12:30 pm on Sunday.
However he lost conscious followed by the headache. Subsequently an ambulance reached the spot but broke down immediately due to some default. Thus, Vijay's life was snuffed out right in the middle of health camp.
Later the body was sent to Government Medical College of autopsy.