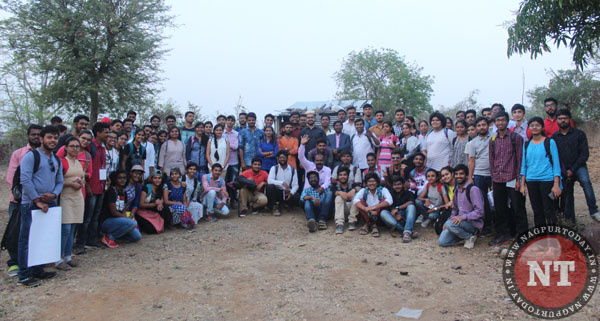 Nagpur: An unique initiative SWADES to promote social enterprises was taken by Youpreneur Youth Club and E-Cell, VNIT, Nagpur. Swades is an inter college state level competition inviting students from various background like engineering, management and law were invited to visit a village for a day, find the problems and challenges of the villagers and build sustainable development solution for them. With Start of Swades'18, we received entries from more than 50 colleges while 20 team qualified with first round made it to second round of village visit on Sunday 4th of March 2018 at Kathalabodi, Bazargoan 45 kms from Nagpur.
Participants were involved with surveying the village profile and engage in participatory rural appraisal tool to understand the details and challenges by the village people. Participant started a dialogue with Sarpanch of the Kathlabodi Village for foundation work of village. With the full day course of activity students came up with many
ideas and solutions to solve the existing problems and committed to work for the social development of rural india.
These teams where further mentored and ideas filtration was done to finally have 10 social startup ideas which was presented to jury at VNIT. Top three winning team got cash prises and incubation and mentoring support from UDYAM Incubation by Youpreneur. All the above event took place under the guidance of experts from social work includes Yugant Kumbhalkar, Social Entrepreneur & CEO of Youpreneur, Sanjay Fulkar, Associate Professor at Kumbhalkar College of Social Work, Abhay Shende, Assistant Professor at Kumbhalkar Social Work College, Dr. Anil Nimbhorkar, social activist and Dr. Vinayak Sakharkhar, Assistant Professor at Kumbhalkar Social Work College, Nagpur. "Engaging young people at rural development is one of the instrumental solution for change in society and our vision is to create 1 million social responsible leaders in India through such initiatives" said Yugant Kumbhalkar, Founder of Youpreneur.
Youpreneur and ECell, VNIT would like to congratulate the all the winner and appreciate to participation in such huge numbers. We would like to thank our team members Kalpak Warke, Shuvendu Ranabijuli, Meghna Bhave, Kumar Paunikar, Shashank Bhisne and other volunteers for immense success of Swades'18.