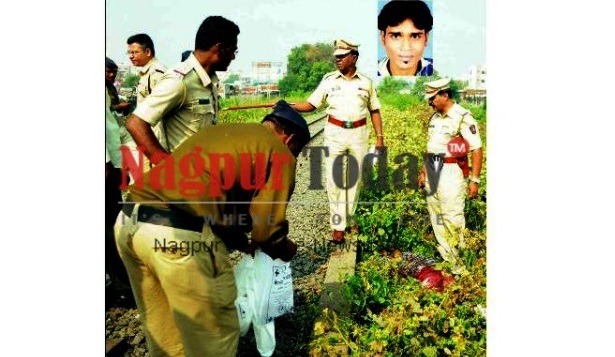 Nagpur News.
The number of murderous assaults and homicides has seen an upswing in the second capital creating uncertainty among Nagpurians over security issues. Adding yet another number to this rising graph, a young man was found murdered under Kalamna Police Station area on Thursday morning. Identified as Kunal Dhargave (23), the deceased was a resident of Prajapati Nagar slums.
Commuters found a young man's body lying in a pool of blood near narrow railway track, in front of Payal Bar. A passerby informed Kalamna police about the incident. Cops rushed to the spot, performed the panchanama and sent the body for post mortem to Government Medical College and Hospital.
Raju Dhargave, father of the deceased, identified him as Kunal. Nandanvan Police said that Kunal was stabbed to death on Tuesday night. Five deep cut marks of sharp-edged weapons including knives and swords were found on his body.
Cops have taken six persons in custody and are grilling them but nothing concrete has been uncovered about the killing. Police are groping in dark about the exact reason of this brutality. However, apprehensions are being expressed about quarrel over gambling or a love affair that might have led to the murder.
During investigations, it was revealed that Kunal is the eldest son of Raju Dhargave who resides in Pajapati Nagar slum. Raju is a labourer in Cotton Market whereas Kunal runs a rented autorickshaw. Kunal leaves behind wife, mother, Shubham and Priya. His mother informed the police that Kunal was not going to work during Diwali celebrations.
On Wednesday, Kunal left the house at 8.30 pm and was seen with his friends till 10 pm. But he did not turn up at night. His parents assumed that as usual Kunal might have slept at one of his friend's place.
On Thursday morning, a man from the same area informed Raju that Kunal has been murdered and his body is lying near the railway track. Raju rushed to scene and identified him as Kunal.
It was also learnt that a gambling den was active near the murder spot and despite repeated complaints from the residents, no action was taken against them. Sources said that Kunal frequently visited the gambling den and the murder might be a fall out of a quarrel in the den.
Other sources speculate that a love affair might have led to this murderous assault. However, exact reason behind this murder is not clear to the police. Till filing of the report, police have registered a case of murder but no arrests were made so far.