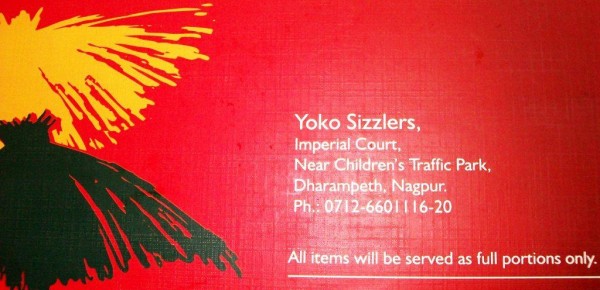 Pros: Clean, Spacious, Service oriented and Quick.
Cons: None really.
The Bottom Line: Keep going. You won't get fed up trying a new sizzler each time you visit.
There is a wonderful feeling of openness. The restaurant is large enough to accommodate many guests, so you don't have to gobble your food so the next party can take your spot. The tables are spaced nicely. Quite a lot of leg room.
Here the seating is aligned with the wall. Good Thing! People don't hover around you. Because of the Power Lunch offer currently on at YOKO, the restaurant is mostly packed to its capacity. In spite of that, the orders are quickly delivered to your table. People at YOKO don't keep you waiting.
The Power Lunch came in three stages. Soup, Sizzler and Soft Drink.
Honestly, I don't remember what we paid. The lunch doesn't burn your pocket at all.
If you don't opt for the Power Lunch, you have a variety of Sizzlers to select. The price ranges from 70 to 700. You can select a variety to suit your palate. Starters and pretty basic as the main idea of the restaurant is Sizzlers. Chicken, Meat, Fish and yes quite a good assortment of vegetarian variables are available. The waiters are very friendly. No irritation seen around. I saw 4 to 5 of them serving a packed capacity of more than 40 guests. The service was quick. It practically took us more time to decide than the service.
Parking is not a problem. The ambience is very good. It is very neat. Clean tables, cutlery, floor, plates and serviettes. No ethnicities displayed. Just a metropolitan executive styled restaurant. Brown hardwood tables and complementing grey-black seating with off white flooring and white new age walls and styled reception furniture was probably all of the interiors. Oh yes and a couple of yellow English lanterns.
Soups was good, Sizzlers were very good. Quantity was probably less but what more can you expect out of a Rs. 225/- lunch that already included a soup, a sizzler and a soft drink. YOKO manages to retain the sizzle of a Sizzler.
Check out the photo gallery.
Nagpur Today likes this Restaurant. 7.5/10
%%wppa%% %%slide=22%%