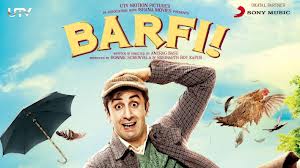 Film: Barfi!
Starring :Ranbir Kapoor, Priyanka Chopra, Ileana D
Banner
Ishana Movies
Utv Motion Pictures
Status
Under Production
Release Date
14 Sep 2012
Genre
Comedy
Language
Hindi
Director
Anurag Basu
Producer
Siddharth Roy Kapur
Ronnie Screwvala
Star Cast
Ranbir Kapoor…. Barfi
Priyanka Chopra…. Jhilmil
Ileana DCruz…. Shruti
Akash Khurana
Sumona Chakravarti
Story / Writers
Anurag Basu
The title lead of the movie is deaf and mute but not for a moment in the movie do you bemoan that Barfi can"t speak. Ranbir Kapoor skillfully makes up for the deficiency with his animated expressions and endless energy. And while director Anurag Basu subtracts some significant senses from his protagonist, he adds much more than he takes away.
Barfi is "visually" stunning, "smells" of freshness in every frame, "touches" your heart every second and is so "tastefully" treated that its excellence "speaks" for itself.Anurag Basu's Barfi! takes a light look at relationships, how each develops over time and dire circumstances, leaping thru physical, financial handicaps that the society otherwise deems stigma.Set in Darjeeling and Kolkata, told mostly in stretches of evocative flashbacks, Barfi! is the story of hearing and speech impaired Murphy (Ranbir Kapoor) narrated primarily by Shruti (Ileana) with bytes from characters such as Saurabh Shukla and others who make up Barfi's life or rather whose lives are enriched by Barfi aka Murphy.
Finding happiness in small things.Barfi lives his larger than life with optimism and aplomb. When he is infatuated with Shruti (Ileana), she reciprocates to his charm, but is immediately snubbed by her mother who asserts that she deserves someone more self-sufficient who can take care of her.
Rejected by Shruti, making no qualms of his limitations and wishing her well, Barfi finds unconditional affection in autistic Jhilmil (Priyanka Chopra) herself a victim of unrequited parental love, keen to explore the only familiar intimacy she trusts and shares with Barfi.Ranbir continues to prove his mettle time and again with an inimitable sincerity his Kapoor legacy is proudly associated with.
With every role, a new experiment, taking his level of maturity notches above his last acts, there is hardly anything more complimentary to write about that hasn't been said before. Just one note, his grandfather Raj Kapoor would be immensely delighted that if anyone had to be the new generation's showman it is his grandson.
If Fashion captured Priyanka's strength as the commercial masala heroine, with Barfi! she establishes a formidable dimension to her prowess as an actress. Not delving deeply into the technicalities of autism, it helps that Anurag lets Jhilmil be, subtle, innocent, glaze of wonderment in her eyes that matches the sunshine she indulges in, instead focusing the films energy more on the beautiful bond that she shares with Barfi.
Ileana makes a very strong debut impression. While her role as a narrator limits her screen space, she is commendable in the ones where she needs to stand her own against Ranbir.The proficiency of filmmaker Anurag Basu in dealing with the various shades of relationships is admirable and his confidence in his subject is evident.
While the narrative seems simplistic, the layers of emotion each character resigns to is treated with ingenuous compassion and in tandem with the sweetness of the title. In a generation where love goes kaput over trivial issues, we generally maintain reservations in adopting a relationship that doesn't match our level of perfection.
Always complaining about the glass half empty, we maintain a not-good-enough conservative approach towards love.We almost always judge people by what they cannot bring to our lives, Barfi instead teaches us to value people by what they bring to our lives.
All praises aside Barfi isn't short of its minuses. There are moments when the film gets droopy, with two of the primary three characters not having any dialogues; the silence gets unnerving that you fight the urge to not get distracted.
However thankfully Ranbir flawless act saves the day dutifully accompanied by Pritam's winning music in its glorified form on the big screen, mesmerizing cinematography by Ravi Varman distracts the viewer from the minor flaws.With heaps of charm and poignancy, Barfi traces human spirit, relationships, thru chaplinesque comedy in some parts and smiles through tears in many others.
You get as involved in Barfi's journey as all his fellow co-stars and you're taken on this breezy ride with the right amounts of effervescence, leaving you with warmth in your heart
Our Ratings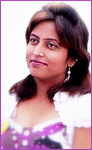 Suhani Vanjani