Yoga (Devanagari) is a term for a range of traditional systems of physical exercise and meditation in Hinduism.
Modified versions of the physical exercises in hatha yoga have become popular as a kind of low-impact physical exercise, and are used for therapeutic purposes. "Yoga" in this sense and in common parlance refers primarily to the asanas but less commonly to pranayama. Aspects of meditation are sometimes included.
Both the meditative and the exercise components of yoga show promise for non-specific health benefits. According to an article in the Journal of Alternative and Complementary Medicine, the system of hatha yoga believes that prana, or healing "life energy" is absorbed into the body through the breath, and can treat a wide variety of illnesses and complaints.
Yoga has been studied as an intervention for many conditions, including back pain, stress, and depression.
A survey released in December 2008 by the US National Center for Complementary and Alternative Medicine found that yoga was the sixth most commonly used alternative therapy in the United States during 2007, with 6.1 percent of the population participating.
There has been an emergence of studies investigating yoga as a complementary intervention for cancer patients. Yoga is used for treatment of cancer patients to decrease depression, insomnia, pain, and fatigue and increase anxiety control. Mindfulness Based Stress Reduction (MBSR) programs include yoga as a mind-body technique to reduce stress. A study found that after seven weeks the group treated with yoga reported significantly less mood disturbance and reduced stress compared to the control group. Another study found that MBSR had showed positive effects on sleep anxiety, quality of life, and spiritual growth.
Yoga has also been studied as a treatment for schizophrenia. Yoga is found to improve cognitive functions and reduce stress in schizophrenia, a condition associated with cognitive deficits and stress-related relapse. In one study, at the end of four months those patients treated with yoga were better in their social and occupational functions and quality of life.
The three main focuses of Hatha yoga (exercise, breathing, and meditation) make it beneficial to those suffering from heart disease. Overall, studies of the effects of yoga on heart disease suggest that yoga may reduce high blood pressure, improve symptoms of heart failure, enhance cardiac rehabilitation, and lower cardiovascular risk factors.
Long-term yoga practitioners in the United States have reported musculoskeletal and mental health improvements, as well as reduced symptoms of asthma in asthmatics. Regular yoga practice increases brain GABA levels and has been shown to improve mood and anxiety more than some other metabolically matched exercises, such as walking. Implementation of the Kundalini Yoga Lifestyle has shown to help substance abuse addicts increase their quality of life according to psychological questionnaires like the Behavior and Symptom Identification Scale and the Quality of Recovery Index.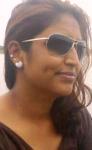 Suhani Vanjani