Yeshwant Stadium to be transformed into business district, Patrakar Bhawan to go!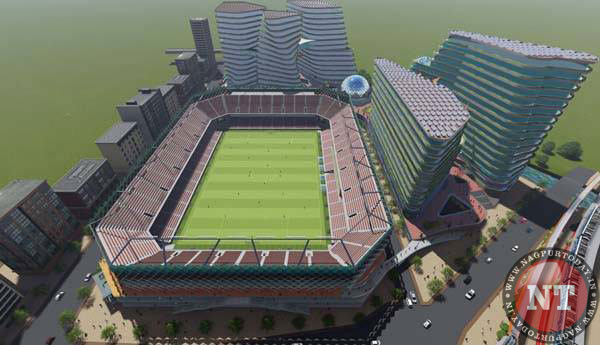 Nagpur: Yeshwant Stadium in Nagpur, which stood tall to add to the sporting glory of the city would soon be developed at international level. If things go as planned, the stadium along with its surrounding will be developed on the lines of central business district. The project to this regard has been recently cleared by Nagpur MP and Union Minister for road transport, highways and shipping Nitin Gadkari.
As per the informaton the existing Yeshwant Stadium and few other places like Patrakar Bhawan, Government Library and bus parking area would be replaced by this project. The project would come up in 15 acres of total land at an estimated cost of Rs 600 crores. Of the said area, 27 lakh square feet would be developed as commercial space.
There will be 2-floor underground parking space. Again there will be parking space above 3rd floor.
As per the presentation, the buildings upto 26 floors were proposed.
The design has been prepared by architect Ashok Mokha and his team, including Kunal Bhisikar.
Besides Gadkari, Mayor Nanda Jichkar, other office bearers and legislators were also present on the occasion. Following the presentation, Gadkari directed MahaMetro to execute the project in association with NMC.
Mokha informed that an open and an indoor sports stadium with ground plus two floors commercial tenements, and stage will replace the existing Yeshwant Stadium. "Five towers of 15 floors each will come up in the area between Panchsheel Square and Munje Square. India's first pedestrian walking street will be part of the project. It is likely to cost around Rs 600 crore," he said.
The project is also likely to end a long pending demand of Ambedkarites as it includes an Ambedkar Convention Centre.
Gadkari also directed MahaMetro to take up development projects proposed on areas surrounding Railway Station, including demolition of flyover in front of the station. He also asked MahaMetro to construct four railway over bridges (RoBs), one each at Pachpaoli and Mankapur, and two at Kalamna. He also assigned the task of Futala development project, comprising a underpass, viewers gallery, musical and laser show etc, to MahaMetro.