Sangeet Samrat Gp Nagpur has arranged "Hits of Golden Era 50s to 90s …Ye ShyamMastaniMadhoshKiye Jay …….. " A tribute to legendary singers by online musical concert.Mamtaji, SandhyaJi ,NilimaJiare Directors for sangeetsamratGpand has given a musical feast to all viewers.
It is unique program planned by them for journey of sweet Songs. Program takes place on 6th Dec 2021. Dr. Sanjay Uttarwar who is a renowned as a Voice of Mukeshin Nagpur region was chief guest for event. Other guest was SumitraThakre a renowned anchor of city. Program takes place live on fb from APS Studio.
Dr Khan, Mr. Ranjitkumar, Mr. Bhushan, Mr. Sanjay Wajalwar, Mr Prakash Rangari, , Mr. Ashok Burde, Anita Gokhe, CharulataPalandurkar, Archanaji are singers who has performed during show. Mamta, Sandhya and Nilima are versatile singers who perform songs of various singers with perfection. . Anchor was K KTannaji .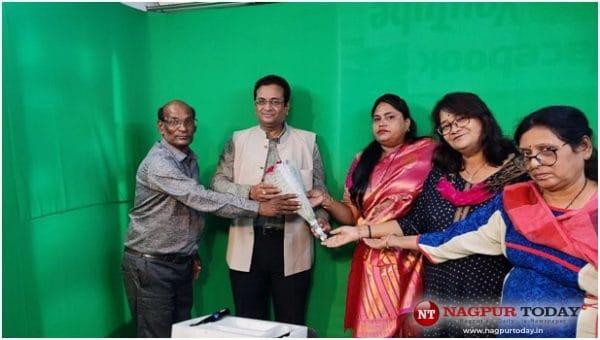 Soulful songs Ganesh vandana, Kisliye Maine PyarKiya, ManjileApniJagah…, Chotisiumar me lag gayarog…, Wadiyatera daman…, Koi Haseena jab ruthjatihai to…, TuShayar Hai…, BahotShukriya …, O mehaboobatereDilke pass .
Tune o Rangilekaisajadukiya…, Zuke jot ere naina…, A mere dostlautkeaaja…, Sab kuchseekhahamne…, TereChehare se nazarnahihatati…, Tuzedekha to ye janasanam.., Chukar mere man ko…, Tum yuhimuzse bat karti ho…, Nazarkesamne….., and many more songs were presented by Singers.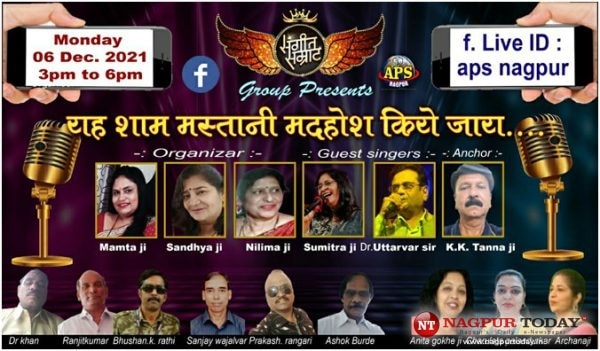 FulTumhebhejahaiKhat me… …., a master piece song from ever green filmSaraswati Chandra Sung byDr Sanjay Uttarwar and Mamta received loud applaud from audience. Audience enters in the era of legendary singers LataMangeshkar and Mukesh Chandra Mathur.
Dr. Sanjay Uttarwaris having immense interest and liking to the field of music. He is associated with various social and cultural bodies of Nagpur. During program , Mamta, Sandhya and Nilima welcomeand felicitate Dr. S SUttarwar and and other guests and thank him for blessings for Gp. In reply Dr. Uttarwar highlight to achievement this gpand extend his best wishes to them. Organisers welcome all on line viewers for joining the program. Renowned people of Nagpurs musical world witness the program on line and extend their best wishes to SangeetsamratGroup .
Viewers gave thanksto directors of SangeetsamratGp for lovely organization and extend their good wishes for future of the them. Program comes to end at 6.30.00 pm and music lovers moves with euphoria of sweet songs.