Yeshwantrao Chavan College Of Engineering, Nagpur recently invited Sandesh Gawande, Chief Technology Officer, Torana Inc. for a knowledge session & industry interaction with 3 rd year & final year engineering students of Information Technology & Computer Technology departments. YCCE is an autonomous institution constantly striving to give global industry exposure to the students.
Sandesh Gawande was accompanied by his colleagues Shyam Khakare (IT Director) & Shubhada Jambhekar (Asst. Manager HR, Operations). Sandesh Gawande & Shyam Khakare also happen to be alumni of YCCE; Sandesh Gawande is a pass-out of Mechanical 1996 batch while Shyam Khakare is a pass-out of Electronics 2003 batch. Both were welcomed by Dr. Gauri Dhopavkar, Head of Department, Computer Technology branch at YCCE. YCCE has a strong alumni connect and the alumni are constantly supporting YCCE in such knowledge enhancing interactions.
Torana Inc. has its headquarters in Stamford, Connecticut, USA and product development center in Nagpur. Its product iCEDQ (Integrity Check Engine for Data Quality) has clients in the USA including New York Stock Exchange, IBM, Franklin Templeton Investments, Lockheed Martin Corporation, AmeriHealth, Nomura, Oshkosh & many more. Sandesh Gawande leads the technology effort of Torana Inc. in USA.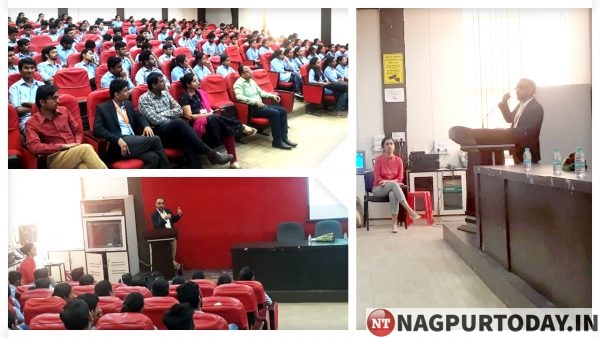 Sandesh Gawande began the session by talking about his journey from Nagpur to USA. He then spoke about Torana Inc. & what the company does. Gawande mentioned that 'Torana', the name of the company, was inspired by Shivaji Maharaj's first fort as he has always been a huge follower of Shivaji Maharaj's life lessons. He motivated the students & said that he is a Nagpurian passed out of YCCE, successfully running a company in the USA and if he could do it, so could they.
He further mentioned that Torana Inc. sells software as licenses to customers, thus being an Intellectual Property based software product company. Next, he explained the mission of Torana which is to innovate to solve human problems. Following this, he elaborated each of Torana's products – iCEDQ (ETL & Big Data Testing Tool), Electrik.AI (Marketing Intelligence as a Service) and CircleYard (digital pinboard for employees).
Finally, he spoke about the important technologies which will determine the course of future in software development which were Big Data, Spark, Hadoop, Artificial Intelligence, Machine Learning, Complex Event Processing (CEP), Cloud, Business Process Model and Notation (BPMN) and Internet of Things (IoT). Students interacted with him in the Q&A round where he answered their questions enthusiastically. He finally thanked the management of YCCE especially Dr. Sachin Untawale (CEO, Meghe Group of Institutions), Dr. Uday Waghe (Principal, YCCE), Mahesh Pawar (Director, Meghe Group of Institutions) and Neeraj Wakhare (Training & Placement Officer, YCCE) for inviting him. He also thanked the students for their interest & patient listening.