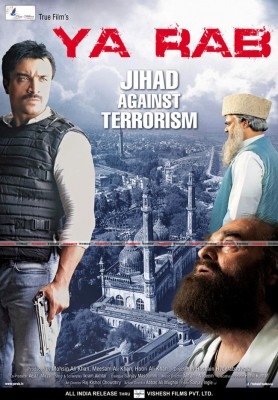 Ya Rab – the movie with tagline 'Jihad against terrorism' was embroiled into controversy for alleged portrayal of madarsas (Islamic education centres) as schools of terror. However the movie which was slated to release Friday managed to clear the objections after removing the scenes of contention from the movie. The producers reported to the Bombay High Court that the contents on which objections were raised by Jamiat Ulama-e-Maharashtra (JUeM) in its public interest litigation have been removed.
The matter came up before a division bench of Chief Justice Mohit Shah and Justice M. S. SanklechaThursday, said petitioner and JUeM spokesman Gulzar Azmi.
At the hearing, counsel for the movie producers informed the court that the objectionable portions have been replaced and hence there is no material at present calling for a stay on the release.
Accordingly, the court declined to grant a stay on the release of the film.
However, the matter has been adjourned till Feb 13 to enable the JUeM approach the court afresh after suitably amending the petition if any objectionable material is found in the movie, said Azmi.
Besides the depiction of madarsas as schools of terror, the JUeM questioned the portrayal of madarsa 'aalims' (teachers) allegedly brainwashing their students to prepare them for Jihadi activities, Azmi had said in the petition.
Directed by Hasnain Hyderabadwala, "Ya Rab" is being promoted and released through veteran film personality Mahesh Bhatt's company, Vishesh Films.