Nagpur: Following the report published by Nagpur Today revealing the damage caused to hundreds of trees due to the nails used to hold up lights not being removed after the recent C20 summit, the Nagpur Municipal Corporation (NMC) has taken action. The administration has started to remove the nails from the trees to mitigate the damage caused.
Earlier, thousands of nails were hammered into the trunks and branches of the trees to install various types of halogen and LED lights in series as a part of the C20 meet in the city. Although the lights were removed after the event, the nails were left in the 'back' of the trees, causing significant damage.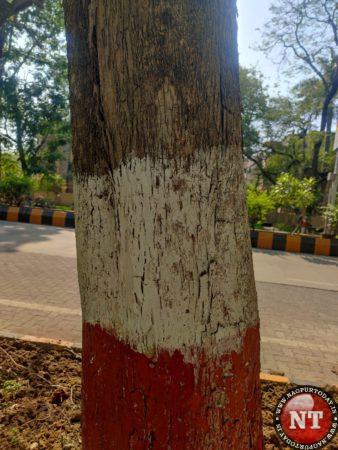 The NMC reportedly spent Rs 20 crore to light up trees on both sides of Airport Road, Wardha Road, VIP Road, Alankar Square, and Telangkhedi Garden to Futala lake. However, the failure to remove the nails used to install the lights resulted in the damage to hundreds of trees. The report published by Nagpur Today exposed the extent of the damage caused, leading to the NMC taking prompt action to rectify the situation.
The removal of the nails from the trees has been welcomed by environmentalists and citizens, who had criticized the administration for causing irreversible harm to the city's green cover in the name of beautification. With the nails now removed, efforts are underway to restore the damaged trees and preserve the city's greenery.