On the occasion of World Environment day, celebrated every year on 5th of June, Nagpur Municipal Corporation and Green Vigil Foundation presented a Street Play – Thamti Saanse , Mitati Pehchan at various parts of Nagpur city like, Ambazari Lake area, Medical Square, Shivaji Nagar Garden, etc. The Street play portrayed the clean and worthy condition of Nag River,100 years back to the present deteriorated condition of the river and the major causes for its declined state.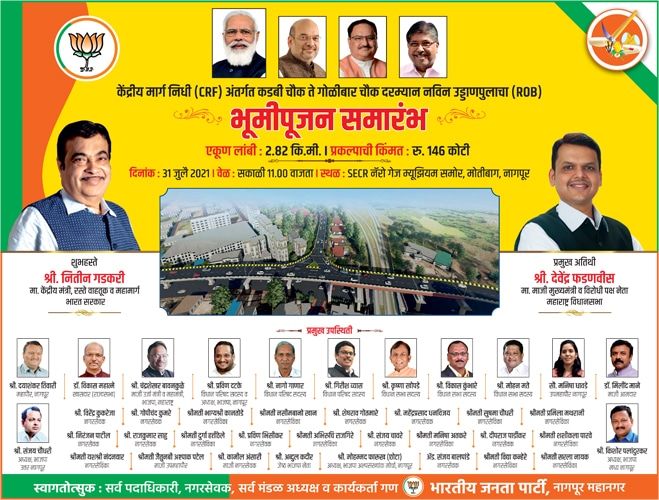 Through this street play, the need of Public Participation and their contribution to rejuvenate the Nag River was emphasized in order to make believe and connect with the efforts being taken to revive the river and to join in for the drive. The play was highly appreciated by the public for an excellent blend of technical details – causative reasons for the apathy of nag river, integrated approach, efforts as well as technology needed to restore previous form of river by authorities as well as citizens, and the right amount of humor to connect people from all walks of life appealing them to come forward and juncture for the campaign.
Along with this, a student's Parliament for NMC school students was organized at Town Hall, Mahal , wherein Green Vigil members discussed with students on various environmental issues, from Global to Local, encouraging awareness and action for protection of environment, motivating them to be a causative agent of change against the deteriorating quality of environment for the coming generation and care for the mother Earth. The student's Parliament was attended by 100 students and 20 teachers of NMC school.
The various programs taken on World Environment day was presided over by Shri Pravinji Datke, Mayor of Nagpur & Shri. Sharavan Hardikar, Commissioner. Prominently present were, Shri Anilji Sole, MLC , Shri. Sudhakar Ji Deshmukh, MLA, Shri. Dayashankar Ji Tiwari, Shri Gopal Ji Bohre, Smt. Varsha Thakre, Shri Jayant Dandegaonkar, Shri Sudhir Matey & Shri Sudhir Koramkar.
Green Vigil Team comprising of Dr. Kavita Rattan, Founder President, Kaustav Chatterjee, Daksha Borkar, Surbhi Jaiswal, Sandesh Sakhare, Mehul Kosurkar, Bishnudeo Yadav, Shakti Rattan, Kalyani Vaidya, Sheetal Choudhary, Saurabh Dubey, Kumaresh Tikadar, Hemant Amesar, Vikash Yadav, Amol Bhalme & others worked hard for the success of the programme.