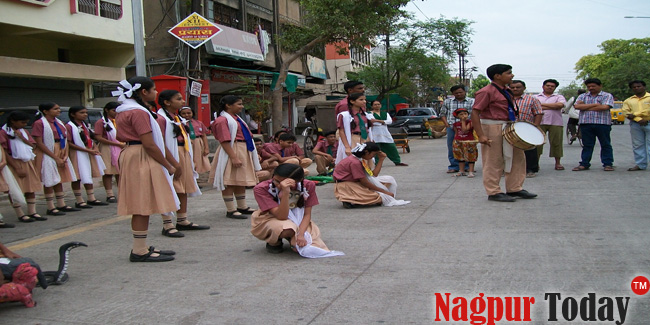 Nagpur News: St. Xavier's Group of schools working on all round development of students is on a new venture in collaboration with the British Council.
To mark and observe "World Environment Day', the school went on a new venture alarming people about the affects of Global warming.
To incorporate this the students of std. IX & X enacted a street play. The theme was "Endangered species'. This was to make people aware about our species getting extinct.
In the week to follow students will present. The street plays that will cover the topics like- water crisis, endangered species, and food security. The process of teaching & making people aware will conclude on 11th June 2013.
The students will be visiting streets on Nandanvan, Deshpande layout, Waradhaman Nagar, Hiwri Nagar to sensitize teacher masses regarding environment.
The students thanked the Chairman Dr. A.F. Pinto and Managing Director Madam, Grace Pinto for providing this platform.
To accomplish the project undertaken the principal, Mrs. Padmaja Marathe, Supervisors and ISA coordinate Ms. Kirti K. worked hard.