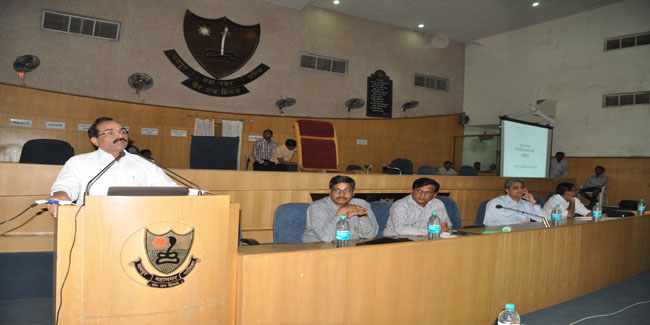 Nagpur News: As per the letter received from the State Government regarding implementation of LBT in Nagpur Municipal Corporation with effect from 1st April 2013, a training workshop was held at Town Hall, Mahal. All the Presidents and Secretaries of Traders Association were invited in addition to all the leaders of political bodies of Nagpur Municipal Corporation. There was overwhelming attendance for the workshop from almost all the trade associations including tax payers association, press and electronic media.
LBT RULES TO DOWNLOAD CLICK HERE
Municipal Commissioner Shri Shyam Wardhane clarified that, there will not be any Inspector Raj in LBT system as feared by the traders association. In fact LBT system is hassle free and no staff on NMC will be allowed to make a search merely on his will. Unless there is a specific permission by the Commissioner with reasons recorded in writing no search will be done. Further there will be no need to make payments daily at the octroi posts as and when the goods enter the city limit but only once in a month upto 10th of the next month, that too after receipt of the the goods all over the month. It was expressed by the Commissioner that with the co-operation of all traders association the LBT model can be successfully implemented.
Kalyan Dombivali Dy. Commissioner made a power point presentation on LBT system and its rules in a very simple and easily understood manner with lot of pictorial models and explained as to who will be eligible for registration, and also explained in details how LBT will be implemented.
Shri Ramnath Sonavene, Commissioner KDMC explained as to how initially LBT was opposed by traders but laters traders also welcomed this hassle free system of taxation in which payment of LBT is to be made by the traders themselves. It was further revealed that there is no need to fear inspector raj as is anticipated by the traders. In fact LBT system is free of Inspector Raj. He gave example than since its implementation at KDMC, not a single search or seizure is made at KDMC. Rather this system is more traders friendly as compared to Octroi. He insisted all traders to co-operate in making registrations.
Shri Vikas Thakare, leader of Opposition NMC and Shri Prakash Gajbhiye, Corporator NMC, Shri Ravindra Kumbhare, DyMC, all Assistant Commissioners, CAFo Shri Madan Gadge, Smt Suwarna Pande, Shri Sanjay Shinde, Assistant Commissioner KDMC attended the meeting.
From the traders association Shri Dipen Agrawal, Shri Santosh Agrwal, Shri Hitesh Modi, Shri Madhusudan Agrawal, Shri Tejender Singh Renu, Shri Sanjay Agrawal, Shri Prakash Suchak, Shri Mahesh Kewalramani, Shri Gandhi, Shri Ramesh Gwalani, Shri Prakash Goyal, Shri Rajesh Rokade and many leaders of trade associations raised their queries about LBT which were clarified during the workshop. Further they suggested some amendments to be done in the rules which shall be conveyed to the State Government and also insisted that till date the Schedule rates are not finalised by the Government and insisted that LBT be implemented from 1st October along with Mumbai Municipal Corporation.
Overall a healthy workshop for LBT was conducted with the presence of more than 200 people at Town Hall. The meeting and vote of thanks was conducted by Assistant Commissioner, Mahesh Dhamecha.
LBT RULES TO DOWNLOAD CLICK HERE