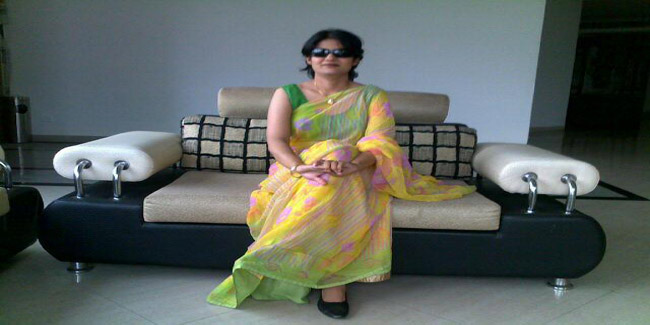 Neelima Harode – a Social activist is a  Director "Right Value Institute of Nursing" , a  President of Ambazari Ladies Club and Secretery THE MIRROR · Nagpur Today caught her and asked about the works she does for the well being of the society.
Here the Excerpt from the interview.
 Napur Today: What was the motto behind forming the Ambazari Ladies club?
Nelima Harode: Mainly to promote social and cultural activities for women and children . The club has contributed a lot towards beautification of the area.
Nagpur Today: What do you feel about Women Empowerment?
Neelima Harode: The government has dedicated this decade to Women Empowerment. A few years back, women were not free at all. She wouldn't even get out of the house. Women should also take a step towards empowering themselves. She should also see that apart from her husband and children there is a world.
Nagpur Today: Please tell us about the blood donation camps you conduct.
Neelima Harode: Every year, we organize a blood donation cap on the occasion of the 'Haldi Kumkum' Festival. We don't take any support from any political group or agencies. 2 or 3 friends of mine together take care of the events and the financial part is taken care by me my husband.
Napur Today: What are the challenges you faced when you took up social causes?
Neelima Harode: When I took up social issues, people thought I wanted to enter into politics. It is since 16 years that I am working for social causes. If I had to enter into politics, I would have already done it. Till now politics is not on my agenda.
Nagpur Today:  Tell us something about the Right Value Institute of Nursing.
Nelima Harode: It is a government recognised institute which doesn't get any funding. After completing 18 months in the RANM course, the student is set to get 100% Government job placement.  This institute is running since 2006. There are 40 students that pass out each year now. For the first 3 years, we had an intake capacity of only 20 students. Till now in government sector around 135 students have been placed.
Nagpur Today: What is your take on reservation?
Neelima Harode: I am against reservation. Everyone wants to remove reservation but nobody wants to hold hot potatoes in their hand. Reservation is creating more disturbances in the society than opportunities. Why women need reservation either? If they want to progress, if they have that spark, they will progress. Why do they need reservation? Everyone should be given equal oppurtunities.
Nagpur Today: You also conduct mass marriages.
Neelima Harode: Yes we do. We have conducted 3 to 4 such and that too without taking a penny from the bride of the bridegroom. We conduct the marriages at the Koradi Mandir near the Koradi Thermal Plant. Well again here we spend from or own pockets. That is why we have limited the number to 5 couples per marriage. We can only afford that much.
Nagpur Today: Tell us about yourself Neelima. How did you get inspired to be a social worker?
Neelima Harode: My schooling and graduation took place in Amravati. I got married and came to Nagpur. I am into social causes since early days. I was the founder of the Koradi Thermal Power Junior Chamber. We did a lot of social work under its aegis. We got quite a lot of awards too. I have also received the National Youth award, the Nehru Yuva Puraskar. Social work is in my blood. There is a clinic that runs in the name of my grandfather in Paratwada since the last 60 years. The medication and costs were borne by my father. The clinic is near Melghat and Chikhaldara. Poor villagers would come for treatment. My father also received an award by the KKKSU last year. Since he died in Jan last year, I went to receive the award on his behalf. There was a citation and cash amount of Rs. 50,000. I immediately donated the amount to the minister Rajesh Tope, the Minister of higher and technical education.
Nagpur Today: Who are you motivated by?
Neelima Harode: My father was, is and will always be my motivation.