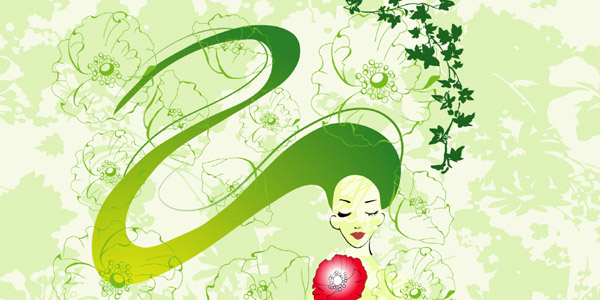 Nagpur News: Nagpur Today celebrates the freedom of the women at work. We salute the spirit and perseverance that these power women exude, for the larger interest of the society. Despite the odds they meet while on their duties, their workmanship never fades. Presenting here a brief account of the women who serve with smile and feel proud to be what they are.
Service to women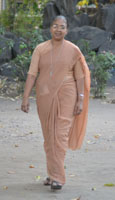 Sister Roselin has been serving the administration of Salesian Missionaries of Mary Immaculate in Nagpur province – an organization that works for weaker sections of the society and also for educating girls for the last 28 years.
She said, "Our Providence Girls School is still for girls even as many of the institutions have gone co-ed. In the same premises we have Providence Junior College which offers job oriented course like D.T.Ed.
We also have a maternity nursing home at Reshimbagh called Amma ka Dawakhana. The Providence School works for the betterment of girls as it makes them skilled in not one but three languages at a time – English, Hindi and Marathi.
Service to Mankind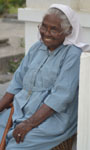 Though 87 years old Sister Mary Emilda devotes most of her time attending prayers at present but she has remarkable service tenure for Salesian Missionaries of Mary Immaculate wherein she dedicated 62 years of her life and still going strong.
She became the face of women empowerment in tribal belts of Madhya Pradesh. She worked for setting up permanent dispensaries in these areas. Mobile clinic, formal and non formal education were also the part of her services. She informed that their organisation is running nursing assistant training for the girls while the fee charged is too nominal.
Ruling the men's domain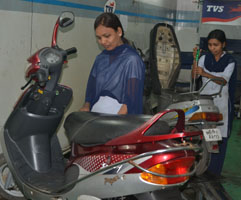 Sujata Pantwane and Dolly Pantwane are happy sisters who took up the job which is certainly considered as men's domain till now. Both the sisters work at the workshop of two-wheeler's showroom as technician.
The siblings completed their polytechnic from Anjuman Polytechnic at Sadar. Despite the adversities involved in the job the two were more inclined towards getting their hands on with the machines.
A quick look at the two working with the bikes is the testimony to their passion for operating the engines and playing with the tools.
Uniform makes feel good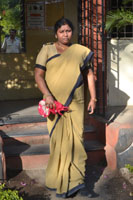 Head Constable at Sadar Police station Malti Shende has been serving the police department for the last 22 years. She felt no hitch in sharing that women should mind her behavior while interacting with anyone in this department. Perhaps this was her mantra for successful stint as police woman.
She says, "Now new lots of girls are pouring into the department. These girls are well acquainted with the behavior they should adopt while dealing with the criminals or their seniors." So how did it feel being a woman in uniform? Malti quips, "I feel proud of me being in the force.
I like my uniform and feel secure even when I move out in nights."
Papers speak more than abuses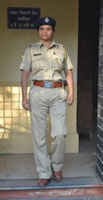 Shubhangi Wankhede, PSI at Sadar police station has no qualms if men behave as they do normally. She says, "There is no change in men's take on women and not it is going to be, whether it's in public or in the department. But women should have their own way out. Unlike our male counterparts we may not adopt rough way to treat criminals nor can we hurl abuses at them but our papers speak more than abuses. Our line of action in any criminal case that we handle is certainly to the point. However it's another thing that women are not the preferable choice for any senior when he wanted to assign any important case. But still I feel great and satisfied with my work at the end of the day." Shubhangi adds, "The best thing that happens around me is that when I return home from an exhaustive work which at times stretches to as long as 12 hours, I can see the smile on my 6 years old son."
"Let the people say that women are not efficient police employee but I do treat any criminal with stiff hand. It is at that moment that I enjoy my feminine side. It is when that I realize the real power of woman in me," says Subhangi as she signs off.
Dr Pooja Khadatkar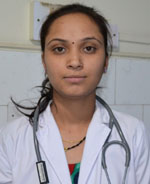 When spoke to Dr Pooja Satish Khadatkar from Avanti Hospital said, "Compare to other professions women are safe in medical profession. We feel secure with our colleagues. Our working atmosphere is more of less free from any harassment of women. In fact, male doctors give equal respect to the female doctors." Talking about freedom and equality to women, Dr Khadatkar said, "Women should become more independent. Every woman should work and this will boost their confidence. Self-dependent women are also independent in taking decision."