Women entrepreneurs can make it big with innovative sanitary napkins machine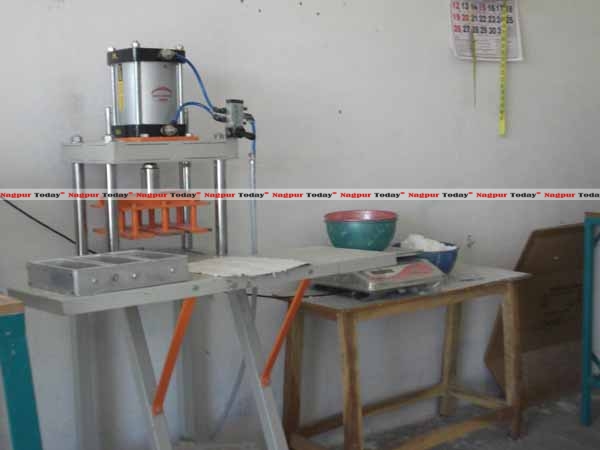 Nagpur News : In our country where population is touching 100 crores, the value of sanitary napkins used by women exceeds Rs 1000 crores annually and it is increasing year after year. In India manufacturing of these sanitary napkins is in the hands of very few companies, mostly controlled by multi-nationals. The set of machines used are very expensive, the price of each set running in to crores. Most of the raw materials used are also imported. Even for middle class women, napkins sold in the market are becoming expensive.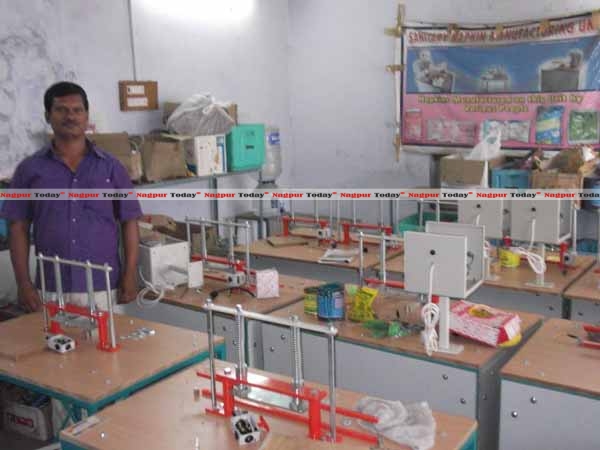 A boon to the women Self Help Groups: While the concept of Ladies Self Help Groups (SHGs) has taken a firm root in our country, it has been observed that hard work is necessary especially in marketing. Failures of SHGs in some areas have also come to light.
For the SHGs, this new invention should be of great help run a successful business, since:
The investment is nominal 2. The product price will be affordable 3.The consumer market is huge and is continuously expanding
The invention and the Idea: National Award winning New Invention Mini sanitary Napkin making Machine:
Idea in more depth: After Taking four years of painful research,
A. Muruganantham (46) has designed, created, tested and implemented a sanitary napkin-making machine that operates on a small scale. Contrary to a large-scale production model which requires Rs.3.5 Crores as initial investment, Muruganantham's sanitary napkin-making machine can be made available to a buyer for approximately Rs.75, 000. This allows smaller players to adopt the business model propagated by him, and thus generates more employment and wealth in the most neglected sections of society.
More specifically, an empowerment forum – such as a Self Help Group or a women's group – can invest in a sanitary napkin-making unit to create a business that employs up to ten women.
The new invention is capable to make 120 napkins per hour
This new invention mini sanitary napkin making machine awarded the best innovation National Award by former President of India Prathiba Patil on November 18, 2009 at New Delhi.
Founder of Jayaashree Industries Muruganandam had to discontinue education after SSLC because of family problems and got employed as a helper in a welding workshop. With a clear vision to think forward and analyze ground realities, Muruganandam Arunachalam found that many women in rural areas still use clothes for their menstrual periods which are highly unhygienic. He also understood that the cost with which the multi-nationals sell their napkins, is keeping the rural women away and a solution for this has to be found.
Those who know less about this napkin industry is that the whole market is virtually controlled by two companies, Procter and Gamble (makers of Whisper) and Johnson and Johnson (makers of Stayfree and
Carefree).
Finding that branded napkins by multi-national companies were very costly he decided to design a sanitary napkin making machine which can produce napkins at low cost. After a four-year study, Muruganandam succeeded in designing a machine for Rs. 65,000 as against the machines now being used costing Rs. 3.5 crores. Though initial response to his product was very poor, Muruganandam with the help of wife started selling napkins to women nearby. The semi-automatic machine requires only a single phase power supply. In a very short span time, the product has been a success and has been delivered to more than 100 units in many states.
Muruganantham's model:
Builds a viable and sustainable enterprise that can be run efficiently by the stakeholders at the grassroots.
Delivers an essential commodity – the sanitary napkin – to poor women at affordable rates without compromising on the raw material used (which is not the unviable cotton) or quality of the product as compared to the multinationals. This is an extremely crucial development and can be viewed as a breakthrough in positive social engineering.
Reduces the players involved in the supply chain – the third person to handle the product (from its inception) is the consumer.
Thereby makes optimal use of the micro-credit generated by a community.
The technology used is simple and non-chemical. In fact, the machine uses purely mechanical processes such as grinding and de-fibration, pressing and sealing to convert the raw material – high-quality pine wood pulp – into a napkin. Overall, the sanitary napkin-making machine is Muruganantham's first attempt at harnessing technology for the benefit of the underprivileged. Once the organization achieves its current goals to expand and propagate its invention, it would refocus to its core competency – inventing the Next Big Thing.
One sentence best describes About the idea?
Sanitary napkins produced in a "Small is Beautiful" model can deliver livelihood, hygiene and dignity to poor women, and help them strengthen society.
What problem or issue does the idea address?
Millions of women around the world cannot afford sanitary napkins, mainly because they're manufactured using expensive machinery and thus priced at a premium. Such women resort to an older and cheaper alternative – a piece of cloth or rag. This is an unhygienic alternative and can cause vaginal infections, skin irritations and embarrassing stains in public. But by reducing the unit price of a napkin, Muruganantham's model enables women to switch over to napkins – dignity must never be unaffordable.
A light-weight and voluminous product like the sanitary napkin introduces high transportation cost. This model allows local production and thus solves the problem.
Muruganantham's model addresses the issue of rampant unemployment amongst the poor in rural, urban and semi-urban areas of all developing nations.
Overall, Muruganantham's model offers livelihood, hygiene, dignity and empowerment to women all over the world. And it does so using a sustainable business framework.
Muruganantham has obtained a patent for his innovation Over 225 such machines have been delivered which are now functioning in 14 states of India also he is getting enquiry by various countries like Nigeria, Ethiopia, Kenya Uganda, Nepal and Bangladesh, but he does not want to make it a commercial affair though only the technology would be passed on to them.
:: Manohar Roy