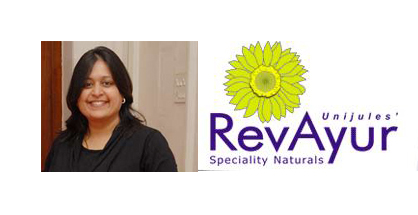 Women are beautiful in our own magnificent and unique ways. But they  often try to enhance their beauty artificially by using various products. However, since most cosmetics contain chemicals, they hesitate and wonder whether it  will harm their  body. This is where RevAyur comes in.
Sharmila Vali gave the team of Nagpur Today an interview worth remembering as she took us through her journey in the industry she belongs to. 
Marcelo Azavedo: Tell me about yourself.
Sharmila Vali: I m a marketing and advertising person worked in Mumbai with an advertising company. Then I got married and started my own Advertising agency by the name of Akasa. The agency is still operational but since 4 years I am with RevAyur. RevAyur has taken president over Akasa but we use a lot of elements and lot of experiences that we have learnt in the past in RevAyur.
Marcelo Azavedo: What is your qualification?
Sharmila Vali: I am an MBA with a specialization in Marketing and Advertising.
Marcelo Azavedo: What made you a businesswoman and what's the story of your success?
Sharmila Vali: I don't call myself successful as yet but I am getting there for sure. The question about being a businesswoman never came to my mind. I never thought that I want to become a businesswoman it was just simple that I would do my work one day at a time.
Marcelo Azavedo: How has been your experience working in two different sectors- Marketing and Advertising- in RevAyur? 
Sharmila Vali: Not different at all as I am doing the same thing here with RevAyur as well. At my agency I used to take care of multiple brands and build brands also like Tribhovandas Bhimji Zaveri was brought by me to Nagpur. I built their brand here in Nagpur. Branding, advertising, customer reach and marketing that I used to do for my agency is also done here but the only difference now is that I am doing it for a single brand now and that is RevAyur.
Marcelo Azavedo: Did you face any challenges in mobilizing your capital when you started you marketing and advertising agency?
Sharmila Vali: Agency I started with just a table and two computers and so no capital was needed.
Marcelo Azavedo: How did you go on from the table and two computers?
Sharmila Vali: Like I said earlier I worked one day at a time and after all it was my dedication and handwork that paid off.
Marcelo Azavedo: How has the market trend changed today, as compared to your time?
Sharmila Vali: oh now has changed dramatically as compared to when I started and I guess you need to upgrade yourself from time to time to succeed.
Marcelo Azavedo: How has your education and work experience prepared you for this position?
Sharmila Vali:  See an MBA definitely helps, as a lot of MBA institutes sends their students for summer inter and that's where I learnt that advertising was the line for me and I had also worked for India's leading Ad Agency in the year 1993/1994 by the name of Trikaya Grey Advertising (India) Ltd. The placements and opportunities are only given when you do an MBA but if you're going to talk about Maslow's Theory and all that it's very simple that this type of things won't work in Nagpur.
Marcelo Azavedo: According to Maslow's Hierarchy of Needs theory,  the top most place for a human being is self- actualisation. Have you managed to attain it?
Sharmila Vali: No not yet, I m still far from attaining self- actualisation.
Marcelo Azavedo: What are the characteristics that you consider you posses that has helped you to achieve this success?
Sharmila Vali: Communication skills and my vivacious nature.
Marcelo Azavedo: How would you rate your products in terms of quality served and quality of the employers that you have? Let us first start with quality served.
Sharmila Vali: I will just giveyou one very recent example that took place in Kerala as we have the highest sales in that region and just 4 months back we started another branch at Tamil Nadu. I would not quote the brand but let's say X brand had started their brand about 8 months through breathtaking advertisement and hoarding. They branded their brand to the maximum but ended up with negative profits as their brand didn't have the right quality to offer as per the demands of the customers their product failed but we being a Pharma based company have our R&D, QC&QA analysis in place for the Pharma thus our passé and providence is much more as compared to other brands in the market.
Himalaya and us we are from the same background as we both are Cosmeceutical Companies not cosmetics as are each product doesn't take more than 6 months to produce in terms of research, packaging and how it's going to give benefits to the customers.
Quality of the employers if you ask me then I would say that leaving the marketing team aside I have the best working staff that fully supports me to the last.
The marketing teams right from the lower management that is the product counsellors have a fickle mindset and would turn their back on their present company for just a couple of hundreds that would be offered to them from any other rival company.
The higher management doesn't deliver to the best of their ability and it is very difficult to find really good employees most of them are either out of Nagpur and some like you have already being taken so the there is a very low attrition rate. This doesn't stop me from improving my team as I make weekly trips to all my outlets to be with my team and to motivate them to do their best.
Marcelo Azavedo: Do you make yourself know that I am the boss here?
Sharmila Vali: Yes I make them know who the boss is as that's the only way that they understand and that helps me get my work done. I am open to ideas and views only if they are followed by results.
Marcelo Azavedo: What are some of your strengths? Some of your weaknesses?
Sharmila Vali: Well my anger is my biggest weakness but I am trying to control it not by anger management but through yoga and my biggest strength is my family.
Marcelo Azavedo: How do you keep yourself motivated?
Sharmila Vali: I have a bunch of friends that keep me motivated and I have always thought that people should look up to me for inspiration and that's what motivates me to do my best.
Marcelo Azavedo: What are your business goals in the future?
Sharmila Vali: I want to take RevAyur pan India which is very difficult because it's very easy to build a brand but sustaining it at the top most position is the most difficult thing and we are working towards our goal.
Marcelo Azavedo: How do you spend your leisure time?
Sharmila Vali: I prefer spending my time with my friends.
Marcelo Azavedo: Any good wishes for Nagpur today?
Sharmila Vali: Yes definitely. I wish the team of Nagpur Today reaches the topmost pinnacle of success and it will definitely achieve that because of excellent employees like you who are doing their job to perfection. My good wishes and blessing are always there with the team.
By Marcelo Azavedo