Woman dies after set ablaze by Satan hubby for more, more, and more dowry money

The devil tries to kill his 14-month daughter by pushing her towards burning wife, but the mother saves her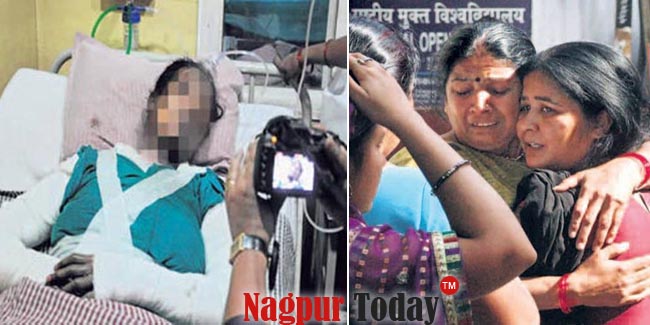 Nagpur Today: The greed for more dowry, more dowry, and more dowry, turned a man so blind that he set his wife ablaze after torturing her mentally and physically. And not satisfied by setting his wife on fire, the Satan tried to kill his 14-month daughter by pushing her towards the burning wife. However, the mother saved her darling by setting her aside from her.
However, the 27-year-old mother breathed her last at the private hospital Suretech in  Dhantoli area of Nagpur on Sunday.
Rajendra Tiwari, working in Western Coalfields Limited, and a resident of Chandmeta in Chhindwada district of Madhya Pradesh, had solemnised his daughter Archana's marriage with Assem Pande, a resident of  Brahmanibanjar Mandla on May 13 in 2011. Aseem started torturing Archana for more and more money and freebies just after two months of marriage. Meanwhile, Archna gave birth to a girl child in June 2012. But still, Aseem did not stop torturing Archana, both mentally and physically, for more money and costly stuffs.
On April 23, Aseem crossed all limits and threw a burning stove on Archana. When Archana cried for help, Aseem's elder brothers Ashis and Amit, instead of helping Archana, incited Aseem to pour kerosene from the stove on Archana and Aseem did the same. In the meanwile, they tried to kill 14-month old Shinu by pushing her towards burning Archana. However, the mother succeeded in setting aside Chinu and by her action saved the kid.
The residents nearby rushed to the spot and forced the brothers to take Archana to hospital. But after admitting her to a local hospital, they shifted her to a private hospital Suretech Hospital in Nagpur on April 24.  However, the 27-year-old mother breathed her last at the private hospital Suretech at Dhantoli in Nagpur on Sunday.
While, Aseem was caught on April 27, four days after the incident, the rest of the family continues to abscond. The police have registered a case under section 307, 498 B and dowry case 3-4 of Indian Penal Code (IPC).