Woman alleges Nangia Automobiles of cheating; showroom asks extra money for no.

Nagpur News:
A woman has alleged Nangia Automobiles – a Suzuki two wheeler showroom located at Yashwant Stadium of cheating her by promising to provide registration number of the new Suzuki Access which she bought from the showroom within a week. The showroom incharge later refused to do so citing illogical reasons and now asking her to pay Rs 3500 extra for the work.. A resident of Hudkeshwar, Vidya Selukar claimed that the showroom authorities have been making the customers run from pillar to post and shifting the onus from one person to another. It's been 5 months and she still did not get the registration number of her vehicle.
Vidya Selukar also said that the showroom authorities are now demanding Rs 3500 for the work which is not justified at all. Vidya Selukar told Nagpur Today that she went to police station, RTO, special branch and showroom number of times during these five months but, she did not get any help from anywhere and still trying to get the number plate for her vehicle.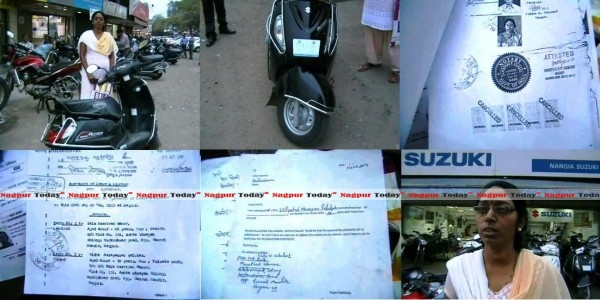 According to Vidya Selukar, at the time of booking, she submitted all the required documents to the showroom authority and they promised her that she will get the number plate within a week but, when she didn't receive any call from the showroom authority even after one month, she went to the showroom and asked for the reason. The showroom authority then told her that the address proof she gave to the showroom authority was not foolproof and therefore she needed to get a verification certificate from the police station. When she went to the police station there she was told to go to special branch office. Vidya did all the formalities and went to the showroom again but, the showroom authority told her that they were helpless in providing her the number. When Vidya asked about the reason, one of the showroom employees told her that if she would give Rs 3500 to the showroom authority her work would be done easily. Vidya alleged that showroom employee had asked for bribe as he failed to explain the justified reason behind this.
Vidya informed that she ended up paying fine many times because she did not have RTO number. She alleged that Nangia Automobiles is responsible for all her loss. Vidya Selukar is now demanding immediate action against the showroom authority and employees and also demands for the number plate as soon as possible.
::  Ravikant Kamble