Nagpur News: The citizens of Nagpur City — Second Capital – Orange City are all decked up to welcome their dearest God, Lord Ganesh, God of Wisdom, Vighnaharta, and worshipped the first among the Gods.Lord Ganesh has answered the prayers of kids, youths, aged and the old devotees who had chanted "Ganpati Bappa Morya, Pudhchya Varshi Lavkar Ya." And the Lord is coming tomorrowon His 10-Day Earthly Sojourn.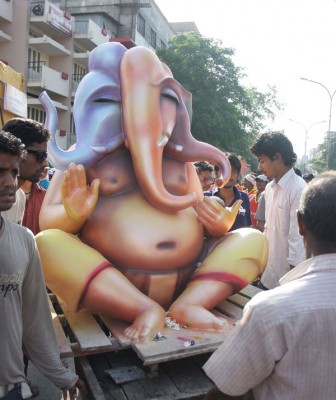 The atmosphere in Nagpur has gone Divine. Every major square and other areas have been occupied by the Lord Ganesh idols. No. The Lord Himself. In various forms and shapes as is called by numerous names by His devotees. Thousands of devotees have already taken God of Wisdom to their homes and begin the 10-Day festivity by tomorrow. The Vighnaharta would be given a prominent place in the lakhs of homes. The places have been decorated with best possible divinely ways. The illumination, the colourful decoration material and other artistic things are in place to keep the Lord in a pleasant atmosphere.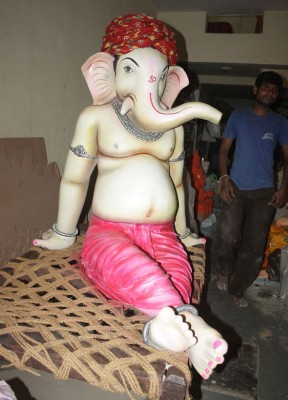 Tallest Lord Ganesh Idol installed at HB Town, Pardi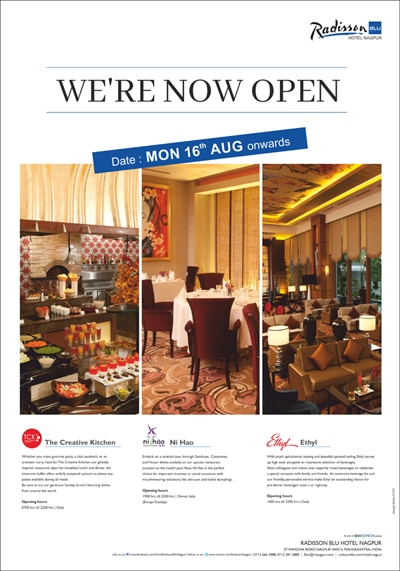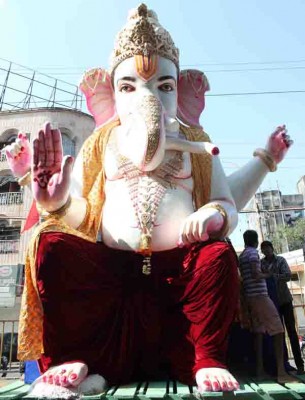 In quest of divine intrusion for the problems of the vidarbhaites and seeking solutions for the same a huge 31 foot, huge idol of Lord Ganesh with great fanfare got installed at HB Town Pardi , Nagpur by the organizers Vidarbha Mathari Kamgari Sangathan.
Claimed to be the largest in the town the Idol of Lord Ganesh was taken out from Chita-roli, Central Avenue in a grand procession that passed through the mains roads to be installed at HB Town, Pardi.
Thousands of Devotees took part in the procession. Dressed in fancy traditional attires and mythological or historical characters kids took part in the procession. The procession was headed by several tableaux depicting mythological episodes.
The decorative procession included a 2 km long lightings, 21 horses , 4 camels, 40 dhols.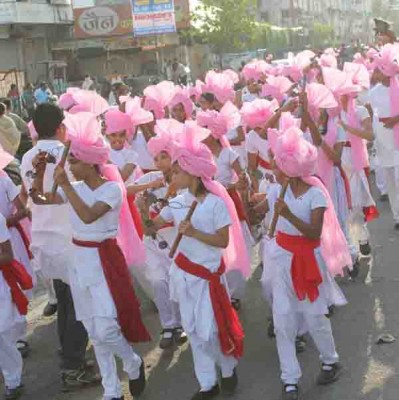 Around 120 beautifully dressed girls performed lezim. Small Ganpati palki's were also there in the procession. A Maha -arti of the Lord Ganesh was performed on the route by abhjeet warhade, Sidharth and rahul Pete.
The big Lord Ganesh Idol was the main attraction of the procession. The Ganesh Idol will be installed for 10days and will be immersed on 19th September .
Senior Congress Leader Satish Chaturvedi also one the main organisor participated in the procession. while talking to NagpurToday he said, " May all the problems of Vidarbha by the blessings of Lord Ganesh may find good solutions."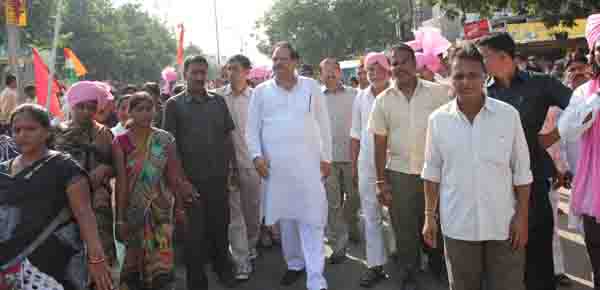 The city Police made elaborate security arrangements to ensure peace during the procession.
Vakratund Maha Kaaya Surya Koti Samaprabha
Nirvighanam Kurme Deva Sarva Kaaryeshu Sarvada