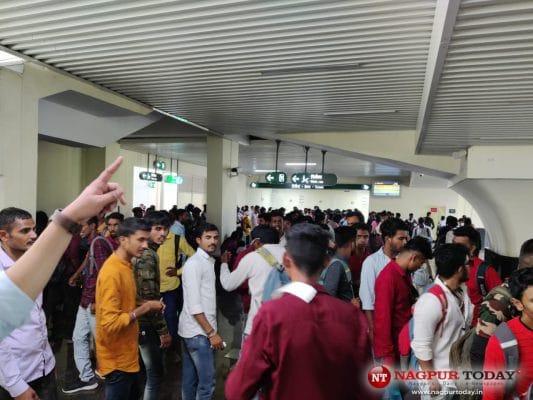 Nagpur: Majhi Metro of Nagpur recorded highest ever ridership on Sunday, June 26, 2022, as about 65,000 travellers utilised the services on Aqua and Orange Lines. Persistent outreach on the part of Maha Metro officials have ensured the huge response from Nagpurians. The previous highest riders was 60,000 passengers and it was on January 26 this year.
To ensure maximum usage of metro services, metro offers feeder service at the station under last mile and first mile connectivity. Under this, options like bicycle, e-cycle, e-scooter, e-rickshaw are in service for passengers. This facility has benefited all the passengers but especially the students working in the MIHAN area and those studying in the educational institutions in Hingna area.
Extended Metro service times:
Maha Metro officials are constantly monitoring the ticket booking and actively taking feedback from commuters. So when it realised the need, the timings of metro services were increased, adjusting to the needs of passengers. Currently, Metro service is available on both Orange and Aqua lines from 6.30 am to 10 pm. Timing of metro trains was especially increased on holidays like Sunday for the benefit of those who are out late at night.
From time to time, Metro teams have reached out to various stakeholders outlining the benefits of using metro services. This engagement with citizens has ensured the increase in footfalls. The programmes were held at educational institutions, business establishments, government offices, hospitals and many other places to convey the necessary information about commuters to the concerned classes.
Maha Card:
Recognising the need of the hour for digital payment, Maha Metro with the help of State Bank of India has made Maha Card available to its passengers. The convenience of Maha Card made it easier for passengers to travel by Metro. Mobile App: Along with Maha Card, Maha Metro has also launched a mobile app for passengers. This also made it easier to travel by Metro as Maha Card and mobile app eliminated the need to stand in line to get tickets and hence the journey by Metro became more enjoyable.
Station Ambassador:
The concept of 'Station Ambassador' was implemented by Metro to spread the word about various aspects of Metro to various sections of the society. Under this, a distinguished person from the community around each metro station was honoured as a station ambassador. Along with this, Metro officials were also appointed for this work.