Nagpur Today:
The birth and welcome of new group in the well-known Round Tablers' Group recently took place. The ceremony was a formal and classy affair. The event earmarked inauguration of the Nagpur Spirits Round Table.
Guests from the area boards of Bombay, Puna and Raipur turned up to attend the inauguration. After the general procedure of conducting a number of meetings, finally came the day to badge the new head board and welcome the members of the new group.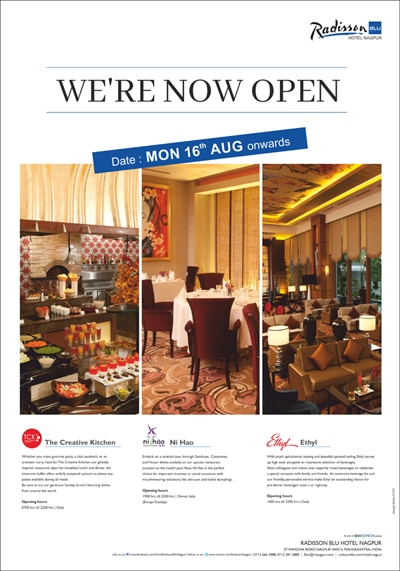 Sameer Agrawal was announced as the Chairman, with Nikhil Agrawal as Vice Chairman, Vineet Gupta as the Treasurer and Siddharth Saraf as the Secretary. The badges to the office bearers were pinned by the NRT 83 members.
The freshly assigned Chairman expressed his thoughts to Nagpur Today saying, "It being an extension of new table NSRT by NRT 83, we were pleased to have prominent tablers present on the occasion from National & Area board that included Tr. Manan, Tr. Hitesh, Tr. Sanjay, Tr. Romel, Tr. Piyush Daga, NRT83 & NART180 chairman Anurag Pashine & Abhishek Thakur resp. & other tablers of NRT83 & NART180. It was a stylish event wherein all the new members & their wives were present. In the first year of its inception, we at NSRT shall focus on fellowship, events & project implementation."
One of the members of the new group Ankit Nangia excerpted, "It was an exciting night .The event started with a small induction presentation by Tablers from Pune, followed by the Inauguration of the new Nagpur Spirits Round Table! As new tablers, we look forward to come together for various social causes – in the field of child education & otherwise!"
Wife of one of the tablers, Jyoti Agrawal added, "I feel it was the time of great pride. As said by the prior tablers, it is beginning of a path towards personal development, and ofcourse with incredible fun inclusive."
The signature Round Table India song was sung in unison by all the tablers. Head board of NRT 83 conducted the entire proceedings. The group was made a member of Round Table India and once the formal party was over, the new members were enjoying the fellowship with NRT 83 which seems like a good sign for the association.
PICS BY : Vicky Thorat