Nagpur: There was magic in the Nagpur air those days, literally and figuratively speaking.
I remember being so moved by the powerful rhetoric of a politician who was in opposition then but is at important position of power now.
"We thought we were lucky that Nagpur area sits on a large deposit of coal and other minerals. We call coal our black gold" he said, adding " we never realized that we were not OVER but UNDER a veritable Gold mine… a multi hued rainbow in our skies that will lead us to a brilliant future. Our fortune lies in our skies, where — international flights criss cross every day, soon they will ALL be landing at Nagpur's brand new airport ( fill in the figures at your fancy. Could be 250, could be more, we never did get to find out since the planes never touched ground at Nagpur, not then, not now…and doesn't seem likely in the future, near or far.)
But what HAS crash landed is our collective dream, where Nagpur would be the modern, big city where our bright youngsters would find jobs at last and not have to pack their bags and leave, permanently, for cities like Pune, Banglore or Hyderabad.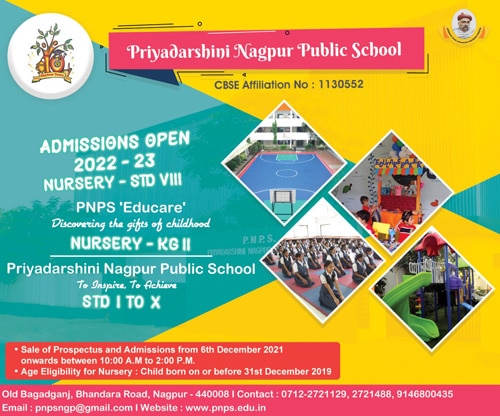 Since I heard that heartening speech and saw the 'presentation' that made hundreds use up their life time savings and purchase tiny plots in fictitious 'townships' on Wardha road, the situation has only deteriorated.
Every year, we see off some more close Nagpur friends as they too pack their bags, fold up their belongings, sell their houses and move to these big cities to be with their sons/ daughters.
The houses are then pulled down by the builder-developer, and ugly apartments come up choking off a good neighborhood's air and sunlight, inhabited by people who will remain strangers to each other.
This was not MY Nagpur!
It was a city that had always attracted people from far corners of the country: Bengal, Odisha, Andhra Pradesh, Tamilnadu, Gujarat – even Punjab. Sindhis displaced from Sindh in Pakistan had come and made this city their home thriving on the textile and clothing business.
Some had come to work for Railways, some in coal mines, others had been brought by British as Administrators and to join in the army and police…later, after independence they came to work for banks and all the Institutes that were centralized in Nagpur. (NADT, Fire College, IBM, MECL, Cotton Research Institute of India, Citrus Research Institute etc.)
We had a very renowned University, which had colleges like LIT, Govt. Medical College, Law college, Agriculture college and what was at one time Asia's biggest General Hospital.
In the 1970s and part of the 80s too, one could see so many foreign students who came to Nagpur to study; from African countries, from Malaysia, Palestine, Nepal.
Nagpur was known as a Trading centre with a thriving market place, a good educational environment and many Central govt. offices and institutes offering employment.
Now Institutes have declined, malls have displaced markets…
The old is gone now. Nagpur's decline began, as everyone knows, from the time it became part of Maharashtra and lost its Capital city status.
Nothing new has taken its place
Since the last 2 to 3 decades we have been sols pipe dreams of a "7 star MIDC" (Butibori) and then a MIHAN with a SEZ.
Butibori has been almost a non starter, the international airport never really materialized, the two planes coming from international destinations stopped, and MIHAN is still a Question mark.
This place that was supposed to hire so many Engineers that five new Engineering colleges were started to fulfill the 'large demand' has in 2017, less than 10,000 people working in it.
How many were employed last year?
As per a MIHAN official's guess estimate, less than 1000!
But even now our honourable Union Minister talks of bringing 50,000 jobs per year to Nagpur!
How? When even the National scenario is bleak!
The United Nations International Labour Organisation (ILO) released its 2017 World Employment and Social Outlook report yesterday, which finds economic growth trends lagging behind employment needs and predicts both rising unemployment and worsening social inequality throughout 2017.
Job creation in India is not expected to pick up pace in 2017 and 2018 as unemployment rises slightly, representing a near stagnation in percentage terms.
"Unemployment in India is projected to increase from 17.7 million last year to 17.8 million in 2017 and 18 million next year. In percentage terms, unemployment rate will remain at 3.4 per cent in 2017-18," the report added.
Another report puts unemployment figures for women in Nagpur at over 12%. (No surprise that we had the tragic case of a young woman committing suicide in Nagpur frustrated with unemployment.)
Two years ago, this was reported by a News channel: Ambazari police fished out partially decomposed bodies of a young couple from Ambazari Lake on Saturday morning. According to some of the relatives, Suraj had lost his job while his wife had failed to find any employment. The couple, identified as Bhagyashree (20) and Suraj Makode (25), had a love marriage against their parents' wish in 2013. Frustration over job situation made them end their lives.
Time to act is running out…
One hopes against hope that Govt. will take a very hard and realistic look at the situation in Nagpur.
Forget hypothetical new job opportunities, they should see how jobs that are on the market now – whether in Railways, nationalized banks, PSUs , Nagpur university etc. – can be earmarked for Nagpur residents.
Not impossible to aim or achieve, Karnataka, Banglore is already musing on this and will show the way.
And instead of new zoos, Echo parks, AIMS, IIMS – whose graduates are hard put to find jobs – please revive and rejuvenate what is already there! Begin with GMC, LIT, the once beautiful Maharaj Bag etc.
Concentrate on promoting Wild life and Tiger Tourism of Vidarbha – what do our forests lack compared to those in S. Africa, Kenya etc.?? On the contrary, we have to offer, The Indian Tiger in his natural habitat! If millions of tourists can go these African countries, why not to Vidarbha?
If possible, revive our handloom textiles, cotton based industries; find ways to make agriculture more remunerative.
Difficult; but not impossible.
What it is they say, Where there is a will, you will find the way.
Find the way – NOW.
—Sunita Mudaliar (Executive Editor)