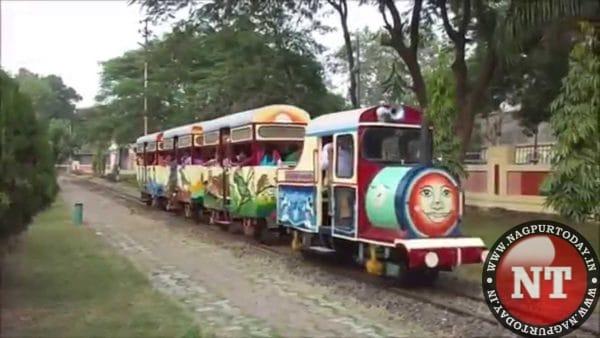 Nagpur: The Seminary Hills Balodyan is the only place in Nagpur City where one can experience the joy of hill and forest walks. Though not a hill station, parents used to bring their children for fun and frolic at this place. The main attraction here for children is the toy train 'Vanbala'. However, during the Corona pandemic, Vanbala was closed. But even after the pandemic is over, the Toy Train has not been started.
Parents bring their children but leave disappointed when they find out that the train is not operational. The Forest Department has kept the Toy Train in 'captivity', and people are now questioning when this exile of Vanbala will end?
Seminary Hills is considered the most beautiful green space in Nagpur city, and the Forest Department started a toy train here to enjoy the jungle safari in Balodyan. Vanbala ran for the first time in 1978, and after that, due to some difficulties, the train's journey continues to be in limbo. The Toy Train was running regularly before the Corona pandemic, but due to the lockdown, the Forest Department has kept it imprisoned in its residence. Almost two years have passed since the pandemic, but Vanaba is still not chugging off.
Parents used to bring their children on Saturdays and mostly Sundays, but now they are disappointed as Vanbala is not operational. Parents from all corners of the city are still coming to take their children for a special 'Toy Train' jungle safari. This year, the parents received a message that Vanaba would start on January 26, and there was a huge crowd for Vanbala on this day, but only disappointment was in store.
The Forest Department had set a ticket price of Rs 30 for adults and Rs 15 for children, and the train used to run full of children along with adults. The whole track of Vanbala running with the children in the sound of 'Zuk Zuk' is two kilometres long, and the short line of the railway is a centre of attraction for children. However, currently, the railway tracks are damaged, and the wooden slipper under the track is in a deplorable condition. The track has disappeared from some places, and there is a demand from parents to repair the complete track with the engine and start Vanbala again.
With summer vacations coming up in a few days, parents will bring their children here for fun, but regret is being expressed that this happiness has been taken away by the Forest Department. The Forest Department should take prompt action to repair the track and start Vanbala soon, so that children can experience the joy of jungle safari again.