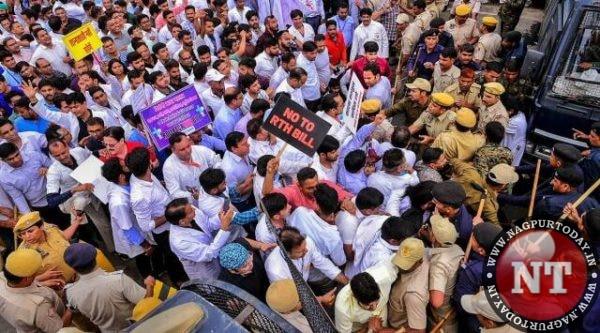 Nagpur: The doctors attached to the Indian Medical Association (IMA) Nagpur chapter observed a 'Black Day' on Monday to protest against the recently passed Right to Health Bill in Rajasthan State. This nationwide protest was initiated by the doctors in Rajasthan who are opposing the 'Right to Health Bill', which was passed in the Rajasthan Assembly on March 21 by voice vote.
The bill provides every resident of the State the right to emergency treatment and care "without prepayment of requisite fee or charges" at any public health institution, healthcare establishment, including private hospitals, and designated healthcare centres.
All doctors in private set-up in Nagpur wore black badges to support the protesting doctors in Rajasthan. The Honorary Secretary of IMA Nagpur, Dr. Sameer Jahagirdar, stated that they have taken an appointment with the District Collector on Tuesday, and their delegation will submit a memorandum.
The IMA statement on the issue reads that providing quality health services free of cost to citizens is the responsibility of the State, and attempts to dilute this would be detrimental to public health. It further added that creating a burden on the already ailing private health sector would jeopardize the system and accelerate the closure of such institutions.
Dr. Anup Marar, Secretary of Maharashtra and Goa chapter of the Association of Healthcare Providers of India, expressed his concern that such bills, if replicated by other states, would break the back of all small hospitals. He stated that the private healthcare sector is going through difficult times, and the government is trying to cap the tariff through various means like CGHS, Ayushman, and health insurance. Dr. Marar added that private doctors are being burdened with increased statutory taxations and commercial charges in the form of fire, electricity, water, and biomedical waste, among others.
The IMA national body has warned of the withdrawal of services by private hospitals in the next phase of the protests.
Meanwhile, Rajasthan Government officials held a meeting with a delegation of private hospital doctors on strike against the Rajasthan Right to Health Bill and assured them of a detailed discussion on their suggestions over the proposed law.
The protesting doctors, however, demanded the withdrawal of the bill which they claimed was "unconstitutional" and will increase bureaucratic interference in the functioning of private hospitals.