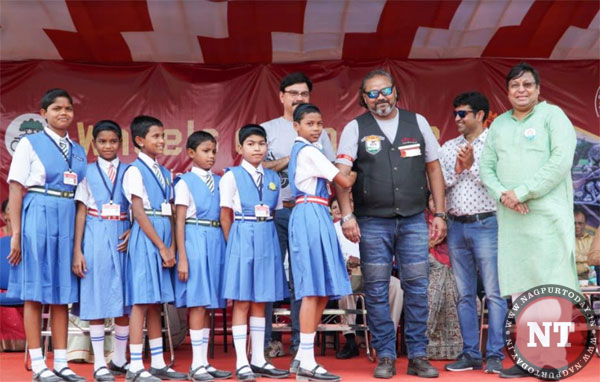 Vanrai foundation & Rotary Club of Nagpur Elite had organised the flagging off ceremony of " WHEELS OF CHANGE"(An inititative by Indian Motorcycle), an event to raise funds for Girl Child Education. This social cause of the 8000 Km long, Golden Quadrilateral Fund Raiser, covering major 16 cities, was a witness to our very own Nagpurian Mr Anurag Srivastava in his second year riding to promote the cause of GIRL CHILD EDUCATION , ably joined by numerous other riders from major cities of India.
Mr Ravindra Thakre Deputy Municipal Commissioner was the Chief Guest and flagged off the rally. Mr Girish Gandhi Trustee Vanrai presided over the programme. Smt Pragati Patil, Chairperson Women & Child Development Committee, NMC & President- Rotary Elite was the lead organiser for this program.
Mr Pankaj Dubey, MD and CEO Polaris India Pvt Ltd, Smt Rachana Singh Principal St Ursula Girls High School, Nagpur were the Guest of Honour.
The programme was attended by more than 600 students of St Ursula Girls High School studying under the Government Tribal Project. The students were gifted with school bags and notebooks. Education kit (Android Television Set) was handed over to the St Ursula Shine Girls' Hostel.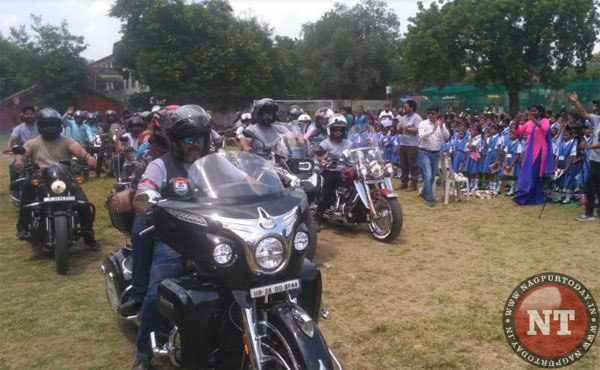 Mr. Ravindra Thakre,Municipal Commissioner was highly appreciative towards the efforts taken by Vanrai Foundation and Rotary Club of Nagpur ELITE for this noble cause of girl child education. He further mentioned in his speech that Corporator Pragati Patil should take lead and organise this type of rallies more often. Dr.Girish Gandhi, Trustee, Vanrai, promised his support towards this noble cause and asked Nagpurians to come forward and support this cause financially.
Commenting on the empowering initiative, Mr. Pankaj Dubey, Country Head and Managing Director, Polaris India Pvt. Ltd said, "We at Indian Motorcycle® want to make a difference and provide the right support for this noble cause of educating the girl child. The K2K(Kashmir to Kanyakumari) ride organized last year was a huge success and we were able to make contributions to many schools in India. Through the GQ ride, we aim to cover 15 cities, identify and contribute to institutions which are committed to ensure primary and high school education for underprivileged girls."
Mr. Anurag Srivastava, Native of Nagpur & Indian® Roadmaster® owner, mentioned that "It's a matter of honour for me to support this initiative. The K2K Ride which was done last year was a life-changing trip and drew attention of a lot of individuals who came forward to extend their support towards this cause. This year we are happy that social organisation such as Vanrai Foundation and Rotary Club of Nagpur ELITE has supported us in this noble cause. I thank all Nagpurians for joining in large numbers and to make this rally a great success.
Mr Ajay Patilconducted the proceedings, a vote of thanks was proposed bySmt Pragati Patil,Chairperson Women & Child Development Committee, NMC & President- Rotary Elite.
Enclosures- Photographs 1. Android TV to be used as educational kit being gifted at hands of Shri Ravindra Thakre – Municipal Commissioner and Dr Girish Gandhi
2. Girl students happily displaying the school bags along with notebooks gifted by Vanrai and Rotary Club of Nagpur Elite
3. Girl Students tying a `My hero band ` as a gratitude to Shri Anurag Shrivastava
4. Bikers after the flag off from St Ursula Girls High School