WCL Chief Vigilance Officer takes family on tour on govt expense; Lakhs of rupees wasted; CBI begins investigation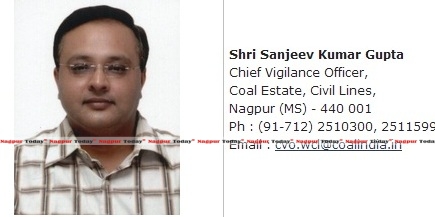 Nagpur Today.
Sanjeev Kumar Gupta, Chief Vigilance Officer, WCL has come under the scanner of the CBI and ACB for alleged corruption and producing inflated bills of air fares, lodging boarding at star hotels and travelling. Gupta has claimed the bills beyond the prescribed limit of the WCL, sources in WCL disclosed.
Sources said that Gupta who was previously working in Forest Department, Andhra Pradesh, was also transferred to Vishakapattam Zoo where he was caught with animal mask and send to WCL as CVO. The CVO is a watchdog for the organization which is expected to show an impeccable integrity and ensure a corruption free environment in the company, but if fence starts eating the field, what sort of honest vigilance can be expected from him, sources wondered. It was alleged that Gupta's image in his parent cadre in the State is not of a clean officer. Even in WCL, working atmosphere has been spoiled and the company is being looted by him and those who do not yield. are harassed by him by making false investigation report against them.
The Chief Vigilance Officer of WCL while misusing his official position as a government servant, and wasted government funds. He took his entire family on tour and had made arrangements to stay in expensive hotels like Hotel Taj. A departmental enquiry into this allegation has proved this misuse of government funds. Now CBI is said to be investigating into the matter.
While misusing his official post and throwing his powers, the Chief Vigilance Officer of WCL S K Gupta had taken his entire family on tour, traveled by air and stayed in very expensive hotels like the Taj. If this was not enough, he had gone under the guise of training, but left the training half way and was allegedly involved in touring and sightseeing different places along with his family. A complaint has been done in this regard to CBI too which is investigating this further. The CBI has filed a First Information Report (FIR) and has already started investigations.
Misuse of Leave Travel Concession (LTC) and Travel Allowance (TA)
Gupta had undertaken many tours in the past too allegedly keeping the laws, rules and regulations at stake. According to sources, he has allegedly shown the expenses of Air Fare from Nagpur to Delhi as Rs 92,000 (for 4 persons) while it is common knowledge that the Air Fare from Nagpur to Delhi is not more that Rs 7,000-8,000 per ticket. Even the business class tickets can be procured for Rs 15,000-16,000. While in reality he had taken the family to Mumbai.     On December 17, 2013, he had gone from Nagpur to Mumbai. He halted at Mumnbai on December 18, 2013. He attended a training on December 19, 2013. He had allegedly spent Rs 1.67 lakhs on Hotel Bills. According to government rules and regulations, any government official can stay only with his wife in the hotel. If children accompany the officer, he has to pay the cost of children's stay from his own pocket. However, Gupta kept the names hidden in every bill and fleeced the money from the government which is an act of fraud.
December 19, 2013, he leaves for Delhi.
After spending a wonderful time at Mumbai, on December 19, 2013, he leaves for Delhi. In Delhi he checks-into Hotel Taj Mansingh and stayed in Room no 830. Here too he showed as if only two people were staying on one room. He spent lakhs of Rupees on boarding and lodging. Even of holidays he stayed in the room, which again is against the rules.
What is more interesting is that Gupta went to Agra and visited Taj Mahal. Even on 26 and 27, he stayed in Hotel Taj as guest of the government.Even when he was not entitled to spend this sum, he continued to spend lakhs of government funds on boarding and lodging (Food and Stay).
The departmental enquiry found him guilty. Meanwhile, an investigation and verifications from various hotels were made. The Hotel management made it clear that the package was of 4 persons, while they were asked to show only as two persons.
Many scandals and scams may come to fore:
According to departmental sources investigating this case, many more scandals and scams may come to fore. It is alleged that Gupta has done a similar thing always whenever he has gone on tour. Surprisingly, he was given with the responsibility to oversee thousands of employees, while he himself is involved in such scams.
Sanjeev Gupta refunds Rs 2, 10,891 through two cheques
Sanjeev Gupta had allegedly returned Rs 2, 10,891 through two cheques dated January 23. 2014 (against October 10, 2013 bill claims) for amount Rs 1, 01,760 and Rs 1, 09.131 (against October 31, 2013 bill claim). Gupta has also requested to verify and inform any other demand that may arise of private expenses on him likewise from any other bills. He also suggested that he expect such verification would be uniformly for all officials in the past and irrespective of settlement of claim from WCL and CIL end after passing and payments of their bills and audit thereof.
Andhra Pradesh Government promotes Gupta
Sources say that Gupta finished his tenure on March 7, 2014. However, he is continuing in the position without being extended officially. Though an inquiry has been initiated by Coal India Ltd (CIL), the Andhra Government had given promotion to Gupta. sources said. But CIL has not given him extension as he is on deputation with WCL. Even, CBI preliminary enquiry has been initiated. CBI has handed over the case to in SP Sandeep Tamgadge (IPS) along with Ravi Banawat.
MP Capt Jainarayan Prasad Nishad, has demanded that Gupta should be immediately removed from the post of CVO and a through inquiry should be conducted, should be sacked immediately, besides recovering from him an amount gulped by him through false TA/DA claims. Nishad has written a letter to Chief Vigilance Commissioner (CVC) and the copy to Joint Secretary CVO, New Delhi.