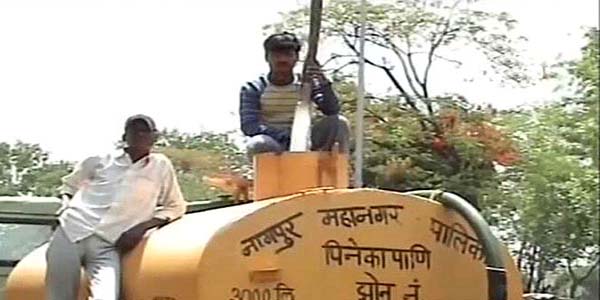 Nagpur News: The startling facts that emerged from the ground reality of 24×7 water supply scheme in Nagpur have pointed to serious scam in the offing. The much hyped round the clock water supply scheme is fetching undue favors to the NMC officials even before its implementation. The supply through water tanks has been the usual business in the city especially when the summer sets in to dry up the taps. But an unusual practice came to light that almost half of water tankers have been continuing supply in networked areas – the areas where proper water pipelines are in place and functioning.
An estimate puts around 40% of the total water tankers being operated in the city are engaged in supplying water in networked areas – the figures that expose the claims of NMC officials to shortly implement 24×7 water supply scheme. More recently, Orange City Waters pvt ltd has been entrusted with the task of supplying water to networked areas along with ensuring the speedy implementation of 24×7 water supply scheme.
In addition to it, the NMC is deliberately paying staggering fees to the OCW for replacing existing tap connections and installing new connections as well. However, sources claimed that NMC does not require paying any amount to OCW but it is being done with vested interest. The officials have allegedly connived with the OCW to filter through NMC's exchequer.
Shiv Sena corporator from Ashi Nagar zone Suresh Talwekar termed water supply through tankers in network areas was a scandal. "My entire ward is having network of pipelines but water is being supplied through tankers due to poor planning. There is alternate day supply through pipelines in my ward so tankers are needed. Besides, for some reason water did not reach all areas having pipelines. Some areas get contaminated water and hence tankers are used for providing drinking water. NMC is responsible for this," he said.
The NMC is paying Rs 2811 for replacing each old tap connection and Rs 2898 for new connection to OCW. The plumbers are demanding Rs 1500 for old connection and Rs 2500 each for the new ones. On the contrary, OCW is stick to its decision to pay only Rs 700 for replacing old and Rs 1000 for installing each new connection. The difference between the amounts OCW is charging from NMC and what it is offering clearly indicates heavy swindling of money in the process.
The CPI leader Jammu Anand has alleged a major scam behind the current activities. He said that water meters are being purchased by Orange City Hydraulic Works pvt. ltd. whereas OCW has entered into the contract for the same with NMC.
He reiterated the need to bring strictures to check malpractices being committed by OCW.
40% water tankers in networked areas…!!!
The Nagpur Municipal Corporation (NMC) has engaged 40% of all water tankers in areas having water supply network. The situation is same for many years indicating either something seriously wrong with supply or a vested interest in keeping tankers in business.
However, 239 water tankers are operating at present in almost all parts of the city. "NMC has made available 284 tankers and planned to increase the number with rise in temperature. Around 60% of water tankers are engaged in non-network areas, mostly unauthorized layouts under NIT jurisdiction. The NMC bears the expenses for these. The remaining 40% supply to network areas under NMC jurisdiction and for this private operator Orange City Water Ltd (OCWL) will bear the expenses," senior NMC official said.
Chairman of water works committee Sudhakar Kolhe said the situation had improved to some extent. "Tankers will become history in network areas once 24×7 and Pench-IV projects are completed. Citizens will see drastic change from next summer. NMC is responsible for delay in completing these projects," he admitted.
Plumbers end strike
Meanwhile, the plumbers association has called off their hunger strike being carried out at RBI square for the past five days. A three-hour long meeting was held on March 26 between NMC commissioner and OCW officials over the issue of plumbers. The commissioner instructed to take favorable decision in the interest of plumbers. After the meeting, deputy mayor Sandeep Jadhav reached the place where plumbers were observing strike and offered glass of juice to Shehrao and Shankar Mourya to call off the strike. Later all the members pulled off.