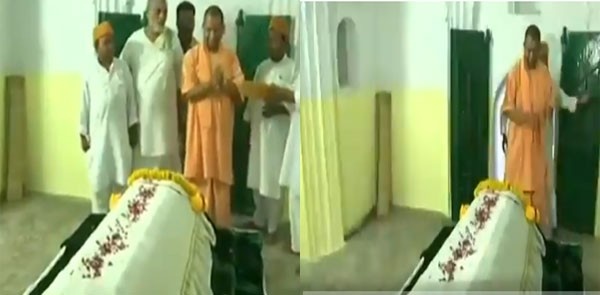 New Delhi: Uttar Pradesh Chief Minister Yogi Adityanath has stoked a controversy after refusing to wear a karakul cap offered to him at Sant Kabir's mausoleum in Maghar. A news agency ANI reported that CM Yogi Adityanath had reached the mausoleum of Saint Kabir to review arrangements for Prime Minister Narendra Modi's visit on the mystic poet-saints birth anniversary.
In the video, as Hussain moved to place the cap on the Chief Minister's head, Adityanath politely declined. He then requested CM to hold the cap in hand and Yogi agreed to do so. Later he also posed for a photo with the skull cap in his hand with Khadim standing next to him.
Earlier, PM Modi had also refused to wear a skullcap a cleric offered him during a fast for social harmony in Ahmedabad. Recently, Congress President Rahul Gandhi had created a furore among the Muslim community by wearing a skull cap offered to him by a Muslim supporter only for a few seconds before discarding it. The whole incident was caught on the camera and the video has gone viral on the social media. In the video, Rahul Gandhi can be seen sitting with senior leaders of the party when a supporter comes and offers him the cap. Gandhi accepts the gift and wears the skull cap but removes it within seconds. This has not gone down well with the Muslim community.
Taking a dig at Yogi Adityanath, Congress leader Pramod Tiwari reportedly said that the cap doesn't belong to any particular religion and it is just to show a gesture of respect. However, UP Cabinet minister Mohsin Raza came out in defence of Adityanath and questioned the intention behind offering caps to leaders.
Prime Minister Narendra Modi is set to address a rally in Maghar to mark the 500th death anniversary of Kabir Das, the mystic poet and saint. According to an official statement issued in New Delhi, the prime minister will offer a 'chadar' at the 'mazaar' of Kabir in Maghar.
#WATCH: UP CM Yogi Adityanath refuses to wear karakul cap offered to him at Sant Kabir's Mazar in Maghar. (27.06.2018) pic.twitter.com/MYb9Mar3WP

— ANI UP (@ANINewsUP) June 28, 2018
Modi will visit the Sant Kabir cave and unveil a plaque to mark the laying of foundation stone of the Kabir Academy which will highlight the great saint's teachings and philosophy.
Kabir Das preferred to breathe his last in Maghar, despite the common belief that whoever dies there does not reach heaven, he had said. "Just as the prime minister gave a message from the Gorakhnath peeth in Gorakhpur in 2014, he will give a message from the nirvan sthali of Kabir Das this time," zonal vice president of the BJP, Satyendra Sinha said
The prime minister will be taken round the mausoleum of Kabir Das. He would also lay the foundation stone of the Sant Kabir Academy, a research institute expected to come up at a cost of Rs. 24 crore, Sinha said. His visit will give a message of social harmony as Sant Kabir stood for equality, he added.